Roasted Asparagus Soup with Saffron Lobster Foam, Salad and Toasts
Spring 2005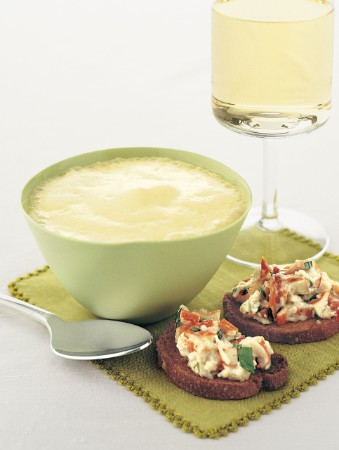 Roasted Asparagus Soup with Saffron Lobster Foam, Salad and Toasts
Spring 2005
BY: Lucy Waverman
A dramatic soup that highlights all the Spanish trends. The soup is intensely flavourful, complemented by the lobster foam. The little toasts are a special treat.
1 lb (500 g) green asparagus, woody ends removed
2 tsp (10 mL) olive oil
Salt and freshly ground pepper
2 tbsp (25 mL) butter
1 cup (250 mL) chopped onion
1 cup (250 mL) peeled Yukon Gold potatoes,
cut into ½-inch (1-cm) dice
4 cups (1 L) chicken stock
1. Preheat oven to 450ºF (230ºC).

2. Cut asparagus into 1-inch (2.5-cm) lengths, and set tips aside. Toss asparagus stalks with olive oil, salt and pepper and place on a baking sheet. Roast for 8 minutes or until asparagus is tender-crisp and slightly browned.

3. Melt butter over medium heat in a pot, and add onion and sauté for 4 minutes or until translucent. Add roasted asparagus, potato and chicken stock. Bring to a boil, cover and turn heat to low. Simmer soup for 10 minutes or until potatoes are soft. Add reserved asparagus tips and simmer 3 minutes more or until just cooked through. Purée soup and season with salt and pepper to taste.

4. Divide into 6 bowls and pour saffron lobster foam over each bowl (recipe follows). The soup will resemble a bowl of cappuccino. Serve with lobster toasts (recipe follows).

Lobster Foam
One 1¼ lb (625 g) cooked lobster in shell
3 cups (750 mL) homemade or low sodium chicken stock
½ cup (125 mL) chopped onion with skin
1 small carrot, thinly sliced
1 tsp (5 mL) saffron threads
1/3 cup (75 mL) whipping cream


Salad
Lobster meat from shell
1 tbsp (15 mL) mayonnaise
1 tbsp (15 mL) lemon juice
2 tbsp (25 mL) extra-virgin olive oil
½ tsp (25 mL) chopped fresh tarragon
Salt and freshly ground pepper
6 small toasts or grilled bread
1. Separate lobster meat from shell and reserve. Break up lobster shell and place in a small pot. Cover with chicken stock and add onion and carrot. Bring to a boil, turn heat to medium-low and simmer gently for 30 minutes or until stock is flavourful. Strain back into clean pot.

2. Combine lobster stock and saffron to make foam. Bring to a boil and reduce down to 1 cup. Add cream and return to boiling point (watch closely or it will boil over).

3. Remove mixture from heat. Just before serving, use a milk steamer, foamer/frother or blender to whip air bubbles into mixture until it resembles the steamed milk on a cappuccino.

4. For salad, chop up lobster meat and combine with mayonnaise, lemon juice, olive oil and tarragon. Season with salt and pepper. Divide into 6 and spread on top of toasts. Serve beside the soup.
SHARE