Roasted Apricot Chocolate Crème Brûlée
Summer 2014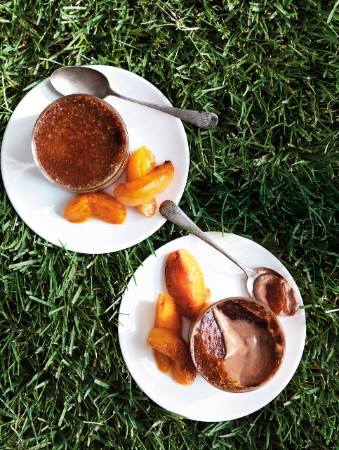 Roasted Apricot Chocolate Crème Brûlée
Summer 2014
BY: Jennifer MacKenzie
Although plain crème brûlée is already decadent and wonderful, with the addition of floral, sweet roasted apricots and dark chocolate, the caramelized sugar-topped custards become even more sublime. Bake the custards in the cool morning or evening and have them waiting in the fridge to brûlée just before serving. If you are making the custards ahead you can refrigerate the roasted apricots for garnish, then warm them up just before serving. It is worth getting a torch to caramelize the sugar since the custard stays set. If you need to use the broiler, it's best to do just a few dishes at a time to have better control and prevent the custards from softening too much.
6 large or 9 small apricots
1 tbsp (15 mL) fresh orange or lemon juice
2 tbsp (30 mL) packed brown sugar or granulated sugar
1¾ cups (425 mL) whipping cream
3 oz (90 g) dark chocolate (65 to 72%), finely chopped
¼ cup (60 mL) granulated sugar
4 egg yolks
1 tsp (5 mL) vanilla

TOPPING
3 tbsp (45 mL) approx. packed brown sugar or granulated sugar
1 Preheat oven to 425°F (220°C).

2 Cut small apricots lengthwise into quarters—or sixths, if large. Place skin-side down in a 9 x 13-inch (3-L) glass baking dish. Brush with orange juice and sprinkle with brown sugar. Roast for 10 to 15 minutes or until softened and fragrant. Let cool.

3 Reduce oven temperature to 300°F (150°C).

4 Bring a kettle full of water to the boil. Place 6 ramekins, each ½ to ¾ cup (125 to 175 mL), in a large roasting pan.

5 Remove skin from about half of the apricots to make ½ cup (125 mL), reserving nicest looking pieces for garnish. Purée with an immersion blender or mini-chop until smooth. Set aside remaining roasted apricots and syrup from dish (cover and refrigerate if serving time is more than 8 hours away).

6 Heat cream in a saucepan over medium heat until steaming. Remove from heat and whisk in chocolate until melted. In a heatproof bowl, whisk together sugar and egg yolks. Gradually whisk in hot chocolate mixture in a thin stream until blended. Whisk in vanilla and apricot purée. Pour into ramekins, dividing equally.

7 Carefully pour hot water into roasting pan until halfway up sides of ramekins. Bake for about 30 minutes or until edges are set but centres are still jiggly. Remove from water and let custards cool on a rack to room temperature. Cover and refrigerate until chilled, about 4 hours, or for up to 2 days.

8 Let apricots warm to room temperature if they've been refrigerated. Blot tops of custards with a paper towel to absorb any moisture. Sprinkle with enough brown sugar to cover with a thin, even layer. Using a torch, brûlée tops until sugar is bubbling and caramelized (alternatively, preheat broiler and place custards on a baking sheet. Broil to caramelize sugar, rotating as necessary for even browning). Let cool until sugar hardens. Serve with roasted apricots on the side.
SHARE