Roast Veal with Braised Vegetables
Early Summer 2009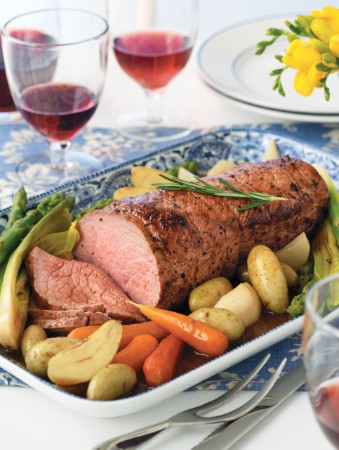 Roast Veal with Braised Vegetables
Early Summer 2009
BY: Lucy Waverman
This type of dish was offered as a special at many of the restaurants I visited in Paris. The cuts varied—sometimes it was a veal chop or veal rib eye. The sauces and garnishes varied, too: one popular presentation was with sautéed mushrooms. Use veal sirloin for this dish, this is the cut butchers use to make veal scaloppine. Finding it may take a bit of sleuthing—it is sometimes referred to as veal rump—but do not use shoulder. If the sirloin is unavailable, the best substitute is veal tenderloin treated the same way but only roasted for 12 to 15 minutes. For the braised vegetables, use your favourite vegetables but try to include leeks as they are excellent with veal. You could include parsnips, golden beets, sweet potatoes or even squash. If garlic scapes are available they are also very good in the mix.
Veal
3 lbs (1.5 kg) veal sirloin, tied in a roll
3 tbsp (45 mL) small rosemary sprigs
Salt and freshly ground pepper
1 tbsp (15 mL) olive oil
2 tbsp (25 mL) butter
1 cup (250 mL) beef or chicken stock
4 cloves garlic, peeled and halved

Braised Vegetables
3 carrots, peeled and cut into 2 inch (5 cm) lengths
12 fingerling potatoes, halved lengthwise if thick
3 cups (750 mL) chicken stock
2 white turnips, peeled and cut into wedges
1 bunch leeks, dark green leaves removed, cut lengthwise through the root
12 stalks asparagus, tough ends trimmed
1. Preheat oven to 400°F (200°C).

2. Cover meat with rosemary sprigs, tucking them inside strings if possible. Season with salt and pepper.

3. Heat oil and butter in a large skillet over high heat until sizzling. Add veal and brown on all sides, about 1 to 2 minutes per side. Remove veal and place in a roasting pan. Discard fat from skillet; add stock and garlic, scraping up all the bits on the base. Bring to boil. Pour hot stock into roasting pan.

4. Place pan in oven and roast for 40 to 45 minutes (depending on thickness)or until medium-rare (if stock is reducing too quickly in pan, add up to 1⁄2 cup/125 mL water).

5. While veal is roasting, place carrots and potatoes into a pot of cold chicken stock over high heat and bring to a boil. Reduce heat and simmer for 10 minutes or until slightly softened.Add turnips and leeks and simmer for 7 to 8 minutes. Add asparagus and cook for 5 minutes more or until all vegetables are cooked through. Reserve vegetables and cooking liquid and reheat when needed.

6. Remove roasting pan from oven, remove veal and let rest for 10 minutes.Place pan over burner and add 1 cup (250 mL) reserved vegetable cooking liquid and bring to boil stirring all the little pieces at the base of the pan.Simmer 2 minutes to intensify flavours.

7. Slice veal into 1⁄2-inch (1-cm) slices. Serve with braised vegetables and some sauce.
SHARE