Roast Rib Eye of Beef
Temps des Fêtes 2007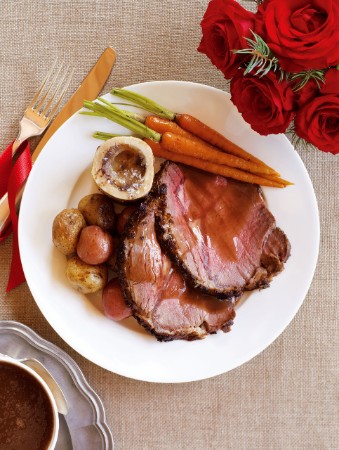 Roast Rib Eye of Beef
Temps des Fêtes 2007
BY: Lucy Waverman
The sauce can be made ahead of time and the roast can be seared ahead of time, as well. Add 15 minutes to roasting time if it has cooled before roasting. If you want more sauce, reduce less and thicken with a little cornstarch and water. The timing really depends on the thickness of the beef. Better to use an instant-read thermometer than guess. The marrow bones go in for the last 30 minutes of baking time. For marrow lovers these are a real taste thrill. They are available at most butcher shops.
2 tbsp (25 mL) olive oil
One 5 lb (2.2 k) rib-eye roast
Salt and freshly ground pepper

Marinade
3 tbsp (45 mL) Dijon mustard
1 tbsp (15 mL) soy sauce
1 tsp (5 mL) Worcestershire sauce
1 tsp (5 mL) chopped garlic
½ tsp (2 mL) cayenne pepper
2 tbsp (25 mL) chopped fresh rosemary or 2 tsp (10 mL) dried
Eight 3-inch long (7.5-cm) marrow bones
Salt to taste

Sauce
1 tbsp (15 mL) olive oil
½ cup (125 mL) chopped onion
½ cup (125 mL) chopped carrots
½ cup (125 mL) chopped celery
1 cup (250 mL) chopped mushrooms
1 cup (250 mL) red wine
4 cups (1 L) beef stock
3 sprigs fresh thyme
2 tbsp (25 mL) unsalted butter, cut in pieces
Salt and freshly ground pepper
1. Preheat oven to 450°F (230°C)

2. Heat olive oil in your largest skillet or a roasting pan over high heat. Season the roast with salt and pepper. Sear roast on all sides until it is a good brown colour, about 8 to 10 minutes in total.

3. Combine Dijon mustard, soy sauce, Worcestershire sauce, garlic, cayenne and rosemary in a bowl. Stir in oil. Brush over roast on all sides. Place on a rack over a roasting pan.

4. Roast for 20 minutes. Turn heat down to 350°F (180ºC) and roast another hour and 15 minutes or until an instant-read thermometer reads 125°F (52ºC) for rare, 135°F (58ºC) for medium-rare and 145°F (62ºC) for medium. Place marrow bones in roasting pan 30 minutes before roast is finished. Salt the marrow and bake with the roast.

5. Heat oil in pot over medium heat to make sauce. Add onions, carrots, celery and mushrooms. Cook for 6 to 8 minutes or until vegetables soften and brown around the edges. Add wine and boil for 5 minutes or until wine reduces down to ¼ cup (50 mL).

6. Add stock and thyme and continue to cook until stock reduces by about half, 30 to 40 minutes or until thickened slightly. Strain sauce pressing down on vegetables. Reduce heat to low and whisk in butter. Season with salt and pepper. Makes about ¾ cup (175 mL) sauce

7. Let roast sit for 10 minutes before carving. It will cook a little further. Carve into thin slices and serve a marrow bone and some sauce.
SHARE