Roast Rack of Pork
Holiday 2010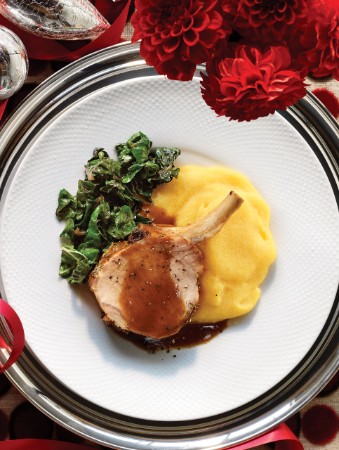 Roast Rack of Pork
Holiday 2010
BY: Lucy Waverman
Ordering pork chops in restaurants often results in dry, overcooked meat and not much flavour. To make sure the pork is juicy I have turned to brining, which improves the flavour and texture (even if the meat is inadvertently overcooked). Make sure the butcher frenches the bones on the rack for you (i.e. cuts away the meat and fat from the bones leaving the eye of the meat). If you can find Berkshire pork then there is no need to brine as its fat content is high enough to keep the meat juicy. Serve with sautéed Swiss chard and polenta.
BRINE
16 cups (4 L) water
1 cup (250 mL) kosher salt
1/2 cup (125 mL) brown sugar
1 head garlic, cut in half horizontally
2 tsp (10 mL) black peppercorns
4 star anise
2 bay leaves
3 rosemary sprigs
4 strips orange peel, about 1 x 3 inches (2.5 x 8 cm)

PORK
1 rack of pork (6 chops)
2 tsp (10 mL) olive oil
1 tbsp (15 mL) chopped rosemary
1 tbsp (15 mL) cracked peppercorns
1 tsp (5 mL) grated orange rind

SAUCE
1/4 cup (50 mL) orange juice
11/2 cups (375 mL) homemade or low-sodium
chicken stock
1 tbsp (15 mL) balsamic vinegar
1 Combine brine ingredients in a pot and bring to boil, stirring to dissolve the salt and sugar. Remove from heat and let cool completely. Place pork into brine and brine for 12 to 24 hours in the refrigerator. Remove from brine, rinse off and pat dry. Refrigerate for 2 additional hours to dry off, then bring back to room temperature. Discard brine.

2 Preheat oven to 450°F (230°C).

3 Place pork on rack in a roasting pan. Combine oil, rosemary, pepper and orange rind and rub all over pork. Bake for 15 minutes. Reduce heat to 325°F (160°C) and roast for 1 hour longer or until a thermometer reads 150°F (65°C) for a pink roast (the time will vary depending on the thickness of the rack). 165°F (73°C) for medium. Transfer pork to a carving board and let sit for 15 minutes while making sauce.

4 Pour fat out of roasting pan and add orange juice. Bring to boil over medium heat, scraping up all the little brown bits at the base of the pan. Add stock, bring to boil and boil until slightly thickened, about 3 to 5 minutes. Stir in balsamic vinegar, turn heat to low and simmer until flavours are combined, about 2 minutes. Season with salt only if it needs it.


SHARE