Roast Leg of Lamb with Lemon Feta Potatoes
Printemps 2016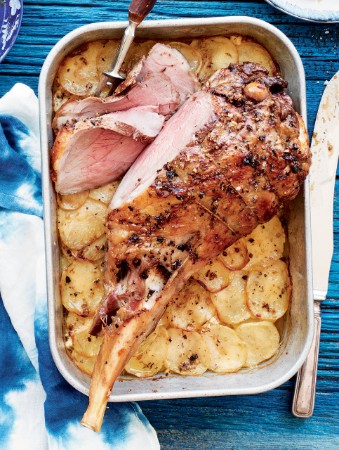 Roast Leg of Lamb with Lemon Feta Potatoes
Printemps 2016
BY: Christopher St. Onge
No Greek Easter celebration would be complete without lamb, but my favourite part of this delectable centrepiece is the tangy, dripping-enriched potatoes over which the lamb roasts. You'll need to marinate the lamb overnight, so plan accordingly. Using a resealable plastic bag ensures the marinade stays in contact with the meat—purchase extra-large ones to fit the joint.
½ cup (125 mL) olive oil
¼ cup (60 mL) freshly squeezed lemon juice
6 cloves garlic, finely chopped
1 tsp (5 mL) salt, plus extra for seasoning
1½ tsp (7 mL) coarsely ground black pepper
2 tbsp (30 mL) dried oregano
1 tbsp (15 mL) chopped fresh thyme
5 to 6 lbs (2.2 to 2.7 kg) bone-in leg of lamb
5 medium Yukon Gold potatoes, peeled and sliced ⅛ inch (3 mm) thick
4 oz (125 g) Greek sheep's milk feta, crumbled
½ cup (125 mL) water
1 In an extra-large resealable plastic bag (or a sturdy, clean and leak-free plastic grocery bag), combine olive oil, lemon juice, garlic, salt, pepper, oregano and thyme. Insert lamb leg, remove as much air as possible from bag and seal; massage marinade into lamb and refrigerate for at least 12 hours or overnight, turning over roughly midway through.

2 Preheat oven to 350°F (180°C).

3 Heat a large, heavy-bottom roasting pan, or skillet large enough to hold the lamb, over medium heat on the stovetop. Open bag containing lamb and scrape leg of as much garlic as possible, returning garlic to the bag; reserve marinade. Brown lamb on all sides and remove to a board; if using roasting pan, wash and dry.

4 Brush bottom of roasting pan with some of the reserved marinade. Arrange half of the potato slices, overlapping, in the bottom of the pan; brush with additional marinade and sprinkle feta evenly over. Cover with remaining potatoes; pour water over. Arrange lamb over potatoes and drizzle all with remaining marinade. Season the lamb only with additional salt and pepper.

5 Roast for 2 hours, or until a meat thermometer inserted in thickest part of leg registers 140°F (60°C). Tent with foil and allow to rest for 15 minutes before removing lamb to a board and carving into slices. Serve with potatoes.
SHARE