Roast Ham with Asian Glaze
Holiday 2009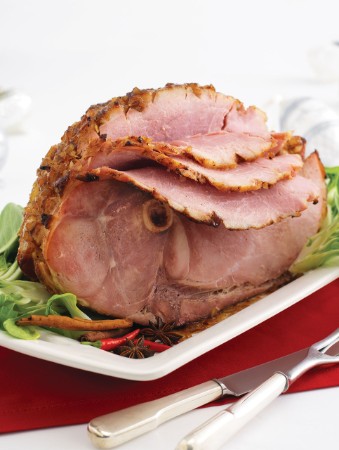 Roast Ham with Asian Glaze
Holiday 2009
BY: Julia Aitken
A ham makes a wonderful centrepiece for a festive dinner and couldn't be easier to prepare. Here, an Asian-inspired glaze adds a kick of flavour.
1 fully cooked bone-in smoked ham,
7 to 8 lbs (3.15 to 3.5 kg)
1 large clove garlic, slivered
½-inch (1-cm) piece fresh ginger, slivered
1 tbsp (15 mL) sesame oil
½ tsp (2 mL) freshly ground black pepper

Glaze
1 cup (250 mL) ginger marmalade
2 tbsp (25 mL) sesame oil
2 tsp (10 mL) five-spice powder
2 tsp (10 mL) Asian chili sauce
1. Preheat oven to 325°F (160°C).

2. Unwrap the ham and remove its net bag, if any. Line a shallow roasting pan with a piece of foil large enough to enclose ham completely; put ham fat-side up on foil. Trim off excess fat from ham, leaving a thin layer all over. Score fat in a diamond pattern. With a slim sharp knife, make about 12 incisions all over top of ham. Use your finger to enlarge each hole; push a sliver of garlic and ginger into each one.

3. Rub ham all over with sesame oil; sprinkle with pepper. Enclose ham in foil, sealing edges well. Roast ham for 2½ to 3 hours or until a meat thermometer inserted into ham but not touching the bone registers 140°F (60°C).

4. For glaze, stir together marmalade, sesame oil, five-spice powder and chili sauce in a small saucepan. Heat over low heat, stirring often, until well combined and marmalade has melted.

5. Increase oven temperature to 350°F (180°C).

6. Open foil and fold it back to expose ham. Brush half of glaze evenly all over ham; return ham to oven for 15 minutes or until glaze is bubbly. Remove ham from oven; transfer to a cutting board. Brush with remaining glaze and tent loosely with foil; let stand for 15 minutes before carving.
SHARE