Roast Goose with Prune Stuffing and Pan Gravy
Holiday 2004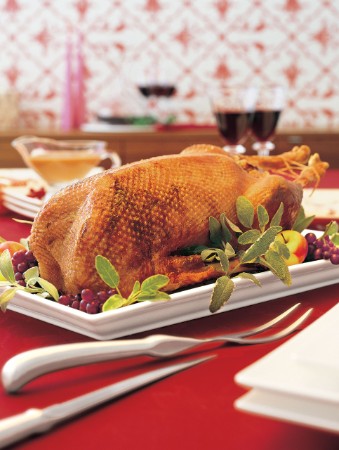 Roast Goose with Prune Stuffing and Pan Gravy
Holiday 2004
BY: Lucy Waverman
Geese are available for Christmas at many butchers. The quality of the goose certainly affects the final product. The best geese I have found are from Quebec, but there are also lovely Brethren geese from the Mennonites. Goose was the traditional main course for a Victorian Christmas. Remember A Christmas Carol, with the goose brought steaming to the table? However, Victorians also started to turn to turkey and this recipe with the prune stuffing certainly can be used with turkey. A 14 lb (6.5 kg) turkey will need to be cooked for about 3 hours at 400ºF (200ºC).
9 lb (4 kg) goose
Kosher salt and freshly ground pepper
Hot water
1. Remove excess fat from goose and take out bag of giblets. Place goose on a baking sheet and refrigerate for 24 hours to dry the skin.

2. Preheat oven to 425ºF (220ºC).

3. Salt cavity of goose. Salt and pepper skin. Loosely stuff goose with Prune Stuffing (recipe follows).

4. Close cavity with skewers or by sewing, then tie legs together. Dry skin thoroughly with paper towels. Prick the skin around the thighs, back and lower breast.

5. Place goose breast-side up on a rack in a roasting pan. Set in middle of oven and bake for 30 minutes or until lightly browned.

6. Reduce oven to 350ºF (180ºC).
 
7. Using ¼ cup (50 mL) hot water, baste goose with water.The water helps to render the fat. Bake for 30 minutes. Turn goose over once and bake for another 30 minutes breast-side down. Return to breast-side up and continue cooking for 45 minutes to an hour.

8. Total roasting time for goose is about 2¼ to 2½ hours, or when the drumsticks move easily in their sockets and the thigh juices are a pale yellow. Do not overcook or meat will dry out. An instant-read thermometer should read 165ºF (75ºC) at the thickest part.

Prune Stuffing
¼ cup (50 mL) butter
1½ cups (375 mL) chopped onion
1 cup (250 mL) chopped celery
2 cups (500 mL) chopped pitted prunes
2 tbsp (25 mL) Armagnac or brandy
1 tsp (5 mL) orange zest
1 tsp (5 mL) grated ginger
1 tbsp (15 mL) chopped thyme
2 tbsp (25 mL) chopped parsley
3 cups (750 mL) fresh bread crumbs
½ cup (125 mL) chicken stock
Salt and freshly ground pepper
1. Melt butter in skillet over medium-low heat. Add onion and sauté for 5 minutes. Add celery and cook for 5 minutes more or until celery is soft and onions are slightly golden.

2. Remove from heat, stir in prunes, Armagnac, zest, ginger, thyme and parsley. Add bread crumbs and stir in enough chicken stock to moisten. Season well with salt and pepper.
Pan Gravy
¼ cup (50 mL) flour
¼ cup (50 mL) red wine
4 cups (1 L) chicken or turkey stock
1 tbsp (15 mL) tomato paste
2 tbsp (25 mL) redcurrant jelly
Salt and freshly ground pepper
1. Drain fat from roasting pan, leaving brown roasting juices and enough fat to absorb the flour. Place pan on stove over medium heat. Add flour, stir well and cook until flour is browned.

2. Whisk in wine and stock, scraping any bits on bottom of pan. Bring to a boil, stirring constantly. Add tomato paste and redcurrant jelly. Simmer for 2 minutes. Season with salt and pepper.
SHARE