Roast Duck with Indian Flavours
Holiday 2020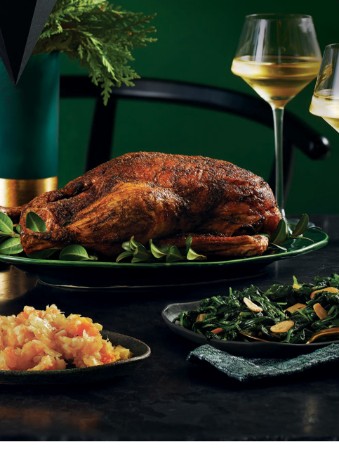 Roast Duck with Indian Flavours
Holiday 2020
BY: Christopher St. Onge
The spice used here might sound exotic but it's composed of things you already know. Garam masala is typically a combination of cumin, coriander seed, cardamom, pepper, nutmeg, cinnamon and cloves—all the warm, comforting flavours that feel so right over the holidays. The method, a long slow roast at a low temperature followed by a period of higher heat, results in a foolproof bird with succulent breast meat and crisp skin. Widely available frozen King Cole ducks, reared in Ontario, are the right type to use here. Allow three days to thaw in the fridge. Avoid thinner skinned, gamier Muscovy—using the method described here, this type of birds results in a wizened, dried-out roast.
5 to 6 lbs (2.27 to 2.72 kg) Pekin duck
1 tbsp (15 mL) finely grated ginger
1 tbsp (15 mL) finely grated garlic
2½ tsp (12 mL) salt, divided
1 tbsp (15 mL) virgin coconut oil, melted
1 tbsp (15 mL) garam masala
1/2 tsp (2 mL) cinnamon
1. Preheat oven to 300°F (150°C).

2. Remove the giblets from the bird if included; discard (or save for another use). Thoroughly dry the bird inside and out.

3. Using a pair of kitchen shears, remove excess skin and fat from around cavities leaving a slight overhang to ensure the meat is covered. Using a needle or pin, poke holes in the skin in 1/2-inch (1-cm) intervals all over the duck.

4. Combine ginger, garlic and 1 tsp (5 mL) salt in a small bowl; rub into the cavity. Set bird on a roasting rack set in a deep roasting pan. Roast in the centre of the oven for 2 hours.

5. Meanwhile, combine coconut oil, garam masala, cinnamon and remaining 1½ tsp (7 mL) salt. Brush all over duck at the 2-hour mark and return to oven for an additional 2½ hours.

6. Increase heat to 375°F (190°C); roast an additional 30 minutes.

7. Remove duck to a board and let rest for 20 minutes. Carve and serve with Crushed Vegetables with Chili Butter and Gingery Greens.
SHARE