Roast Duck Breast with Grapes And Chestnuts
Automne 2008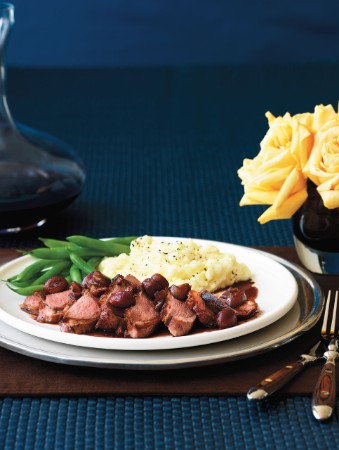 Roast Duck Breast with Grapes And Chestnuts
Automne 2008
BY: Nicole Young
Roasted grapes are the perfect accompaniment to rich duck breast. Seasoning the duck breast the day before cooking calls for a bit of advance planning but the flavour is well worth the effort. If you forget or don't have time, proceed without that step and add some fresh thyme to the sauce at the end.
2 boneless duck breasts (about ¾ lb (375 g) each)
1 tsp (5 mL) each coarse salt and fresh cracked pepper
2 tsp (10 mL) fresh thyme leaves
4 cups (1 L) red grapes, about 1 bunch
2 French shallots, halved and cut into thick slices
1 tbsp (15 mL) olive oil
½ tsp (2 mL) each coarse salt and fresh cracked pepper
1 cup (250 mL) full-bodied red wine
1 cup (250 mL) roasted chestnuts, shelled and coarsely chopped
1 tbsp (15 mL) cold butter, cubed
1. Using a sharp knife, score skin of duck breasts to create a ½-inch (1-cm) diamond pattern. Sprinkle with salt, pepper and thyme, pressing to adhere. Place on a rimmed baking sheet and cover with plastic wrap. Refrigerate for at least 8 hours and up to 1 day.

2. Preheat the oven to 450ºF (230ºC).

3. Arrange grapes and shallots in a single layer on a baking sheet. Drizzle with olive oil and sprinkle with salt and pepper. Roast until grapes are golden but still intact, about 12 to 15 minutes. Let cool slightly.

4. Heat large ovenproof skillet over medium heat. Add duck, skin-side down; cook until almost all fat is rendered (cooked off) and skin is golden brown, about 15 minutes. Transfer duck to plate and remove all but 1 tsp (5 mL) of fat from skillet (save for another use). Return duck back to pan, skin-side up and roast in oven for about 8 minutes or a thermometer registers 135°F (57ºC) for medium-rare or longer if desired. Transfer to cutting board, cover loosely with foil and rest for 10 minutes.

5. Meanwhile, in same skillet bring wine to a boil over medium-high heat. Add roasted grapes, shallots and chestnuts to pan. Cook for 5 minutes, until sauce reduces slightly and add cold butter to pan, shaking pan until butter has been absorbed and sauce is thickened and has a glossy sheen.

6. Slice duck and divide over 4 plates. Spoon grape sauce over duck and serve immediately.
SHARE