Ricotta Brussels Sprouts Gratin
Holiday 2013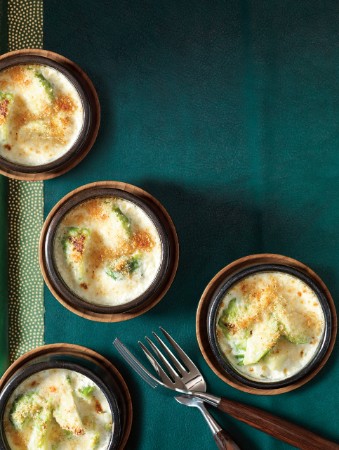 Ricotta Brussels Sprouts Gratin
Holiday 2013
BY: Victoria Walsh
This classic gratin with a twist showcases Brussels sprouts as the star vegetable. And since the recipe calls for individual gratin dishes, no one will have to fight for that last spoonful.
1½ lbs (750 g) Brussels sprouts
1½ cups (375 mL) ricotta
1½ cups (375 mL) whipping cream
2 tsp (10 mL) Dijon mustard
1½ tsp (7 mL) fresh thyme leaves
¼ tsp (1 mL) salt
Generous pinches of freshly grated nutmeg,
preferably freshly grated
Generous pinches of pepper
1/3 cup (80 mL) bread crumbs
1 tbsp (15 mL) melted butter
1/3 cup (80 mL) freshly grated Parmigiano-Reggiano
1 Preheat oven to 375°F (190°C).

2 Bring a large pot partially filled with water to a boil.

3 Meanwhile, trim Brussels sprouts and remove outer leaves. Cut small ones in half and large ones into quarters. Place ricotta in a medium bowl. Slowly whisk in cream, Dijon, thyme, salt, nutmeg and pepper. In another bowl, stir bread crumbs with butter, then Parmigiano.

4 When water is boiling, add sprouts. Boil until almost fork-tender, 3 to 5 minutes. Drain well; divide between 6 gratin dishes that can each hold 1/2 cup (150 mL). Pour ricotta mixture overtop. Sprinkle on bread crumb mixture. Cover with foil. Place all on a large baking sheet. Bake for 15 minutes. Uncover. Broil for 2 more minutes until bread crumb mixture is lightly golden and Brussels sprouts are fork-tender. Serve warm.
SHARE