Rich Oxtail Soup with Madeira & Mustard-Thyme Cream
Autumn 2010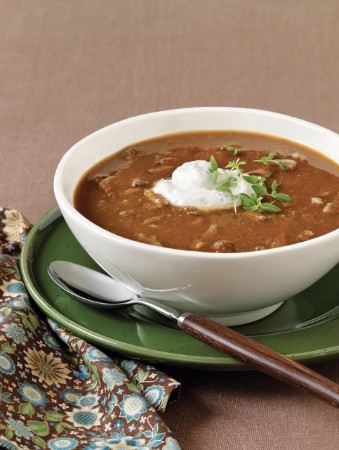 Rich Oxtail Soup with Madeira & Mustard-Thyme Cream
Autumn 2010
BY: Julia Aitken
This may seem a lengthy recipe just to fix a soup, but what a soup! The depth of flavour is so amazing, it's well worth the effort. For best results, starting prepping the soup at least one day ahead. Have your butcher cut the oxtail into pieces
Soup

2 lbs (1 kg) oxtail, cut into 2-inch (5-cm) pieces
2 tbsp (25 mL) tomato paste
2 medium carrots, coarsely chopped
2 stalks celery, coarsely chopped
1 large onion, coarsely chopped
4 whole unpeeled garlic cloves
2 tbsp (25 mL) olive oil
½ tsp (2 mL) each salt and freshly ground
black pepper
1¼ cups (300 mL) Madeira
8 cups (2 L) homemade or low-sodium
beef stock
½ oz (15 g) dried porcini mushrooms, rinsed
2 bay leaves
1 large bushy sprig thyme
Mustard-Thyme Cream

⅓ cup (75 mL) whipping cream
⅓ cup (75 mL) sour cream
1 tbsp (15 mL) grainy mustard
2 tsp (10 mL) finely minced fresh thyme leaves
Pinch each salt and freshly ground
black pepper
1. Preheat oven to 400°F (200°C).

2. Spread oxtail pieces with tomato paste. In a large heavy roasting pan, combine oxtail, carrots, celery, onion and garlic. Drizzle with oil and sprinkle salt and pepper; stir well. Roast for 45 to 50 minutes, stirring once or twice, until oxtail and vegetables are well browned.

3. Remove garlic from roasting pan. Tip contents of roasting pan into a large Dutch oven. Squeeze garlic from skins; add to Dutch oven.

4. Add 1 cup (250 mL) Madeira to roasting pan; bring to a boil over high heat, stirring to scrape up any browned bits from bottom of pan. Boil for 2 to 3 minutes or until Madeira has reduced by half.

5. Pour reduced Madeira and any bits that have released from bottom of roasting pan into Dutch oven. Add stock, porcini mushrooms, bay leaves and thyme. Bring to a boil. Reduce heat to medium-low. Cover and simmer gently for 2½ to 3 hours or until oxtail is very tender.

6. With a slotted spoon, remove oxtail from pot. Refrigerate, covered, overnight. Strain cooking liquid through a colander into a large bowl. Let cool to room temperature then refrigerate, covered, overnight. Discard bay leaves and thyme sprig; refrigerate cooked vegetables, covered, overnight.

7. The next day, carefully pick all meat from oxtail bones. Chop meat finely, discarding any fat; set aside. Carefully lift solidified fat from top of the now-jellied stock.

8. In a large saucepan, heat jellied stock gently until liquid. Strain through a fine sieve into a second large saucepan.

9. In a blender (not a food processor), purée reserved cooked vegetables with 1 cup (250 mL) strained stock. Return to saucepan. Add oxtail meat. Bring soup to a simmer over medium heat, stirring occasionally.

10. Whip cream until it thickens slightly to the consistency of yogurt. Fold in sour cream, mustard, thyme, salt and pepper.

11. Stir remaining Madeira into soup. Taste and add more salt and pepper if necessary. Ladle into warm soup bowls. Top each portion with a dollop of mustard-thyme cream; serve at once.
SHARE