Rich Chocolate Soufflé
Holiday 2008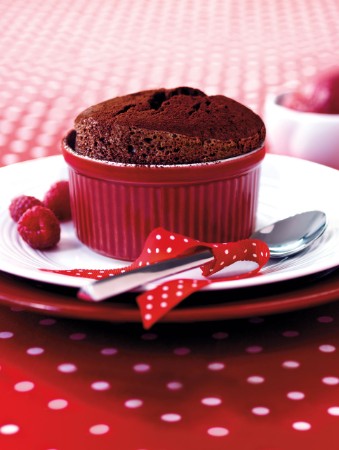 Rich Chocolate Soufflé
Holiday 2008
BY: Jennifer McLagan
Use the best-quality European chocolate for the richest taste. Chocolate sets when cooling, so once the egg yolks are added, don't leave the mixture too long before adding the beaten egg white.
One 6-cup (1.5-L) soufflé dish or six ¾-cup (175-mL) ovenproof ramekins

2 tsp (10 mL) unsalted butter, softened
¼ cup (50 mL) sugar
6 oz (175 g) semi-sweet chocolate, finely chopped
½ cup (125 mL) whipping cream
2 tbsp (25 mL) brandy or water
Pinch of fine sea salt
3 egg yolks
4 egg whites
¼ tsp (1 mL) cream of tartar
Sifted cocoa for dusting
1. Butter the soufflé dish or ramekins and then using about 2 tbsp (25 mL) of the sugar, coat the base and sides, then refrigerate until ready to use.

2. Pour about 1 inch (2.5 cm) water into a saucepan and bring to a simmer. Put the chocolate, cream, brandy and salt into a heatproof bowl, and place over the simmering water. Turn off the heat and leave to melt. Stir the chocolate mixture until smooth, remove from heat and whisk in the egg yolks 1 at a time.

3. Preheat the oven to 400ºF (200ºC).

4. With an electric beater, whisk the egg whites until frothy. Add the cream of tartar and continue to whisk until soft peaks appear. Slowly add the remaining sugar and continue to whisk until the whites are thick and glossy.

5. Add a small amount of whisked egg white to the chocolate mixture. Stir well to lighten and then add the lightened mixture. Using a spatula, gently fold them together. Spoon the mixture into the prepared dish/es, piling up in the centre, then smooth the top. With a clean thumb make a trough around edge of each dish to detach mixture from sides, then place on a baking sheet.

6. Lower the oven to 375ºF (190ºC), place on the middle rack and bake until puffed and just firm to the touch, about 15 minutes for individual soufflés and 25 to 30 minutes for a large one. Dust with cocoa and serve immediately.
SHARE