Rich Beef Pot Pie with a Cheddar Crust
Holiday 2008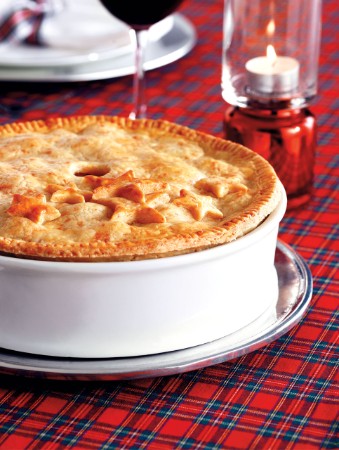 Rich Beef Pot Pie with a Cheddar Crust
Holiday 2008
BY: Lucy Waverman
Jerusalem artichokes take a little less time to cook than the other vegetables so cut them slightly larger. You could also use frozen puff pastry for the pie but the cheddar crust does add to the taste (recipe follows). Serve with a salad of mixed greens and Belgian endive.
2 tbsp (25 mL) olive oil, plus extra if needed
2 lb (1 kg) stewing beef
Salt and freshly ground pepper
1 cup (250 mL) chopped onions
½ cup (125 mL) chopped carrots
1 tsp (5 mL) chopped garlic
1 tsp (5 mL) chopped fresh rosemary
1 cup (250 mL) red wine
2 cups (500 mL) beef stock (homemade or low-sodium)
1 cup (250 mL) drained canned tomatoes, chopped1 bay leaf

Root Vegetables

1 cup (250 mL) diced parsnips, ½-inch (1-cm) dice
1 cup (250 mL) diced rutabaga, ½-inch (1-cm) dice
1 cup (250 mL) diced carrots, ½-inch (1-cm) dice
1 cup (250 mL) diced Jerusalem artichokes

Sauce

2 tbsp (25 mL) olive oil
2 tbsp (25 mL) flour
Cheddar Crust (recipe follows)
1 tbsp (15 mL) Dijon mustard

Egg Wash

1 egg yolk
1 tbsp (15 mL) milk
1. Preheat oven to 325ºF (160ºC).

2. Heat 1 tbsp (15 mL) oil in a Dutch oven or skillet over medium-high heat. Pat beef dry using paper towels and season with salt and pepper. Working in batches, add beef to Dutch oven, adding more oil as needed. Sear beef until browned on each side, about 4 minutes total. Remove to a plate and reserve.

3. Reduce heat to medium-low. Add remaining 1 tbsp (15 mL) oil to pan. Add onions and carrots and cook for 2 minutes or until softened. Add garlic and cook 1 more minute. Stir in rosemary.

4. Add red wine and bring to boil, scraping up any brown bits from the bottom of the pan. Add stock, tomatoes and bay leaf and bring to boil. Return meat to Dutch oven (if you have not been using a Dutch oven, transfer contents to an ovenproof, heavy baking dish), cover and bake for 1½ hours. Add root vegetables and bake for 45 minutes longer or until meat is tender and vegetables are cooked. Cool and skim off any fat. Strain cooking liquid into a large measuring cup, reserving meat and vegetables separately. Discard bay leaf.

5. For sauce, heat oil in a skillet over medium heat. Add flour and cook until flour turns a nut brown colour, about 4 to 5 minutes. Slowly add reserved cooking liquid (you should have about 2 cups/500 mL liquid) and bring to a boil. Reduce heat and simmer for 5 minutes or until strongly flavoured and thick. Sauce needs to be thick enough to coat meat. Toss meat and vegetables with sauce and season with salt and pepper to taste. Reserve.

6. For crust, roll out enough frozen puff pastry to fit a deep 9-inch (23-cm) pie plate. Brush the bottom inside crust with Dijon mustard. Fill with reserved meat and vegetable mixture. Roll out remaining pastry and centre on top of pie. Use a little cold water to seal top and bottom crust together. Trim and crimp in a decorative fashion.

7. For egg wash, combine egg yolk and milk in a small bowl and brush exposed pastry with egg wash. Use a sharp knife to cut a few vents in the top crust to allow steam to escape.

8. Place pie on a baking sheet and bake in the lower third of the oven for 40 minutes or until crust is deeply golden and filling is bubbling. Serve hot.
SHARE