Rib Steaks with Crab & Bottarga
Summer 2019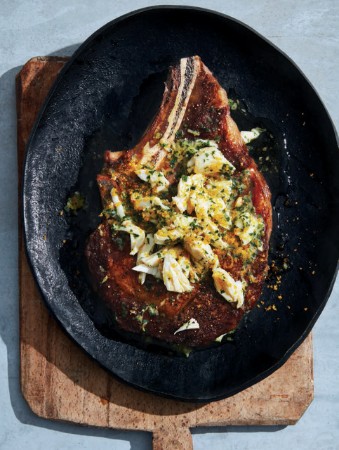 Rib Steaks with Crab & Bottarga
Summer 2019
BY: Christopher St. Onge
Rib cuts are the steak lover's dream. The surf portion here comes from two equally remarkable products: jumbo lump crab is a premium product available in cans at better fish shops. Bottarga, a Mediterranean favourite, can be found in well-stocked fish shops and gourmet stores (where it tends to be quite expensive), as well as Middle Eastern grocers (where it can be half the price). If unavailable in a shop near you, bottarga.ca is an excellent online source.
2 dry-aged, bone-in rib steaks, each 1 ¼ inch (3 cm) thick
Salt and freshly ground black pepper

BOTTARGA BUTTER
½ cup (125 mL) unsalted butter, so_ened, preferably Stirling Creamery Whey Butter
2 tbsp (30 mL) finely grated bottarga
1 tbsp (15 mL) finely grated lemon zest
1 tbsp (15 mL) finely chopped parsley
⅔ cup (150 mL) Phillips Jumbo Lump Crab
Extra bottarga to garnish
1 One hour before you plan to cook the steaks, remove them from the fridge and season generously with salt and pepper. Let stand at room temperature.

2 Preheat a charcoal grill (or gas in a pinch) to high heat.

3 Meanwhile, combine all of the ingredients for the bottarga butter in a small pot; set aside.

4 Cook steaks for 1 minute, then give them a quarter turn and cook 1 minute longer; continue to do this for a total of 4 minutes per side to form an even crust (without grill marks) on medium-rare steaks. Remove steaks to a board and let rest for 5 minutes.

5 Place reserved butter mixture over low heat just until melted. Stir in crab to warm through, breaking apart some of the pieces as you go. Platter or plate the steaks, top with crab and butter. Finely grate extra bottarga overtop to garnish.
SHARE