Rib Steak Poutine
Temps des Fêtes 2016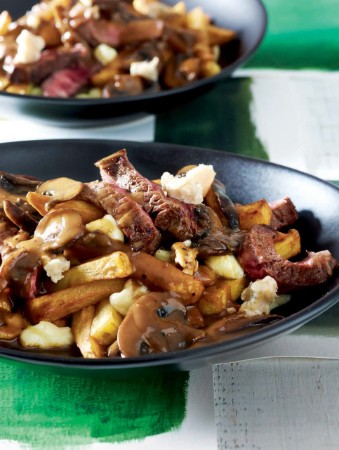 Rib Steak Poutine
Temps des Fêtes 2016
BY: Christopher St. Onge
I don't know anybody who doesn't like poutine, even all the newfangled versions of late…It's hard to go wrong when fries and gravy are involved. This version sticks pretty close to the classic, with just enough twists to make it interesting. Considering the juggling skills required to make poutine at home, the portions here are meant to satisfy as a meal.
6 cups (1.5 L) homemade beef stock, or 2 cartons (each 480 mL) beef stock
¼ cup (60 mL) butter
6 oz (175 g) shiitake mushrooms, stemmed and thinly sliced
6 oz (175 g) cremini mushrooms, thinly sliced
Salt and freshly ground black pepper
¼ cup (60 mL) all-purpose flour
½ cup (125 mL) dry Marsala
3 large Yukon Gold potatoes, each about 1 lb (500 g)
Vegetable or peanut oil for deep-frying
2 rib-eye steaks, each ¾ inch (2 cm) thick
10 oz (300 g) cheese curds
2 oz (60 g) Gorgonzola, broken into small pieces
1 Bring stock to a boil in a large pot over medium-high and reduce to 2 cups (500 mL); set aside.

2 In a large skillet, melt butter over medium heat. Add mushrooms, season with salt and pepper, and sauté until softened and tender but not browned, 8 to 10 minutes. Sprinkle flour over mushrooms; combine. Pour Marsala and stock into skillet; bring to a boil, stirring from time to time, and cook for 5 minutes. Taste and adjust seasoning if necessary. Remove from heat and cover while preparing fries and steak. (Gravy may be made 3 days in advance and refrigerated until ready to use. Reheat to serve.)

3 Peel potatoes and cut into slices about ⅓ inch (8 mm) thick. Stack a few slices together at a time and cut into ⅓-inch-wide (8‑mm) batons. Add to a large bowl and cover with cool water; soak for at least an hour, and as long as a day at room temperature.

4 Drain potatoes and dry well. Pour oil into a large deep pot to a depth of 5 inches (12 cm), or a deep-fryer to specified fill level; heat to 325°F (160°C). Working in batches, cook fries for 5 to 6 minutes or until tender but not golden. Remove with a slotted spoon to paper-towel-lined baking sheet to drain.

5 Before finishing fries, prepare the steaks; season both sides with salt and pepper. Borrow 1 tbsp (15 mL) from the frying oil and add to a heavy skillet. Heat over high until oil is smoking; fry steaks 2 minutes per side for rare, remove to a board, let rest 5 minutes; slice and set aside.

6 Reheat oil to 375°F (190°C). While oil is heating, heat gravy to steaming.

7 Fry potatoes a second time, in batches, until golden and crisp, about 2 minutes. Remove to a paper-towel-lined baking sheet to drain; season with salt.

8 Divide fries between 4 shallow bowls. Top each with an equal amount curds and hot gravy. Divide steak and Gorgonzola between the portions.
SHARE