Rhubarb Khoresh
Spring 2015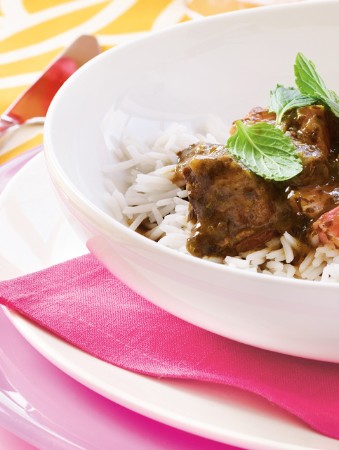 Rhubarb Khoresh
Spring 2015
BY: Lucy Waverman
A simple Middle Eastern stew where rhubarb is the star. The sweetness of lamb is a good counterpoint to the tartness of the rhubarb, but you could substitute beef if desired. Serve with basmati rice.
2 tbsp (30 mL) olive oil
2 lbs (1 kg) stewing lamb, cut in 1 inch (2.5 cm) pieces
Salt and freshly ground pepper
2 cups (500 mL) chopped onion
1 tsp (5 mL) ground cinnamon
1 tsp (5 mL) turmeric
3½ cups (875 mL) chicken, beef or lamb stock

TO FINISH
2 tbsp (30 mL) olive oil
1 cup (250 mL) coarsely chopped parsley, packed
1 cup (250 mL) coarsely chopped mint, packed
1 lb (500 g) rhubarb cut in 1 inch (2.5 cm) lengths
1 tbsp (15 mL) sugar, or more to taste
1 Preheat oven to 325°F (160°C).

2 Heat oil in small Dutch oven or ovenproof pot. Season meat with salt and pepper. Working in batches, sear meat on each side until browned, about 4 minutes for each batch.Remove meat from pan and reserve.

3 Reduce heat to medium. Add onions and sauté until softened, about 3 minutes.

4 Stir in cinnamon and turmeric and cook for 30 seconds. Add chicken stock and bring to boil, scraping any bits from the bottom of the pan. Return meat and cover. Bake for 1 hour.

5 Heat oil in a skillet over medium heat. Sauté parsley and mint for 1 minute, or until wilted and fragrant. Add into stew. Return to oven and cook for 30 more minutes. Stir in rhubarb and bake for 15 to 30 minutes longer or until meat is tender. Stir in sugar and adjust seasoning with more salt if desired.
SHARE