Reverse-Seared Strip Steaks with Charred Scallion Salsa
Summer 2020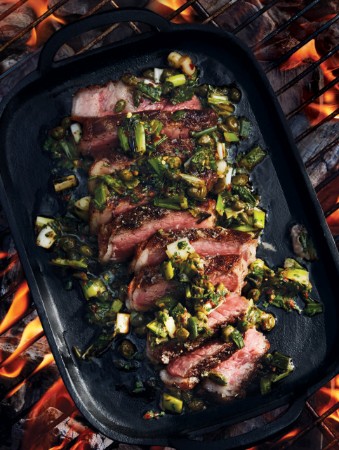 Reverse-Seared Strip Steaks with Charred Scallion Salsa
Summer 2020
BY: Eric Vellend
Reverse-searing is a clever technique for cooking meat that every carnivore should know. Steaks, chops or roasts are first baked in a very low oven then finished on a screamingly hot grill or skillet. It yields meat that is perfectly cooked from end to end every time. Here we reverse-sear thick strip steaks and serve them with a punchy salsa of grilled green onions.
CHARRED SCALLION SALSA
2 bunches green onions, trimmed
1 clove garlic, grated on rasp Large pinch chili flakes (optional)
¼ cup (60 mL) extra virgin olive oil
⅓ cup (80 mL) chopped flat-leaf parsley
3 tbsp (45 mL) capers, rinsed, patted dry
2 tsp (10 mL) red wine vinegar
Salt and freshly ground pepper to taste
STEAKS
2 New York strip-loin steaks,
1 ¼ lb (565 g) each, about 1 ½ inches (4 cm) thick
Salt and freshly ground pepper to taste
Vegetable oil for brushing
1 For the salsa, preheat grill to Clean and oil grate. Grill scallions, turning occasionally, until charred and tender, 3 to 4 minutes total. Transfer to baking sheet to cool. (This could also be done in a grill pan on the stovetop.)
2 While onions are cooling, mix garlic, chili flakes (if using), olive oil, parsley and capers in a medium mixing bowl until Slice cooled onions into 1⁄2 inch (1 cm) thick pieces and stir into salsa with vinegar, salt and pepper. (It will taste bold, but the flavours will soften and come together as it sits.) Transfer to an airtight container and refrigerate at least 2 hours or up to 3 days. Serve at room temperature.
3 For the steaks, preheat oven to 250°F (120°C).
4 Pat steaks dry with paper towel. Season generously with salt and pepper. Place steaks on a wire rack set over a baking shee Bake on middle rack until an instant-read ther- mometer inserted sideways into the centre of each steak reads 115°F (46°C) for medium-rare (40 to 50 minutes) or 125°F (52°C) for medium (45 to 55 minutes). Remove from oven and tent loosely with foil.
5 Preheat grill to very Clean grate. Rub a little vegetable oil on the steaks. Grill steaks, turning occasionally, until you have nice grill marks, about 2 to 3 minutes total. Transfer back to wire rack to rest for 10 minutes. With a sharp knife, slice steaks 1⁄2 inch (1 cm) thick and arrange on a platter. Serve with salsa.
SHARE