Red-Skinned Potato Mash with Buttermilk & Herbs
Holiday 2020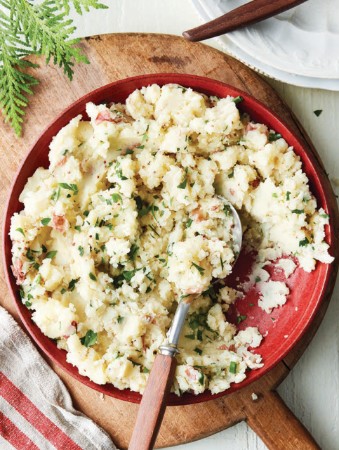 Red-Skinned Potato Mash with Buttermilk & Herbs
Holiday 2020
BY: Eshun Mott
These fresh-tasting mashed potatoes incorporate grainy mustard and herbs, bringing a hint of summer potato salad to your holiday table. Buttermilk adds a nice tang but needs to be added at the very end so it doesn't overheat and curdle.
3 lbs (1.36 kg) medium-size red skinned potatoes, scrubbed
Salt
1/3 cup (80 mL) unsalted butter
1/2 cup (125 mL) milk
1 bay leaf
1/2 cup (125 mL) well-shaken buttermilk
1 tbsp (15 mL) grainy mustard
1/4 cup (60 mL) chopped chives or green onions
1/4 cup (60 mL) chopped parsley, divided
1. Place potatoes in a large pot with enough cold water to cover and season water well with salt. Bring a pot of water to a boil over high heat, turn down to medium and simmer for 30 minutes or until potatoes are very tender when pierced with a fork. Drain and return potatoes to the pot. Place on low heat for 1 to 2 minutes to help evaporate any excess water, shaking the pot occasionally. Set aside.

2. While potatoes are cooking, place butter, milk and bay leaf in a small pot and (watching carefully) bring just to a boil. Remove from heat.

3. Mash potatoes in a pot until the flesh is smooth (some of the skin will get caught in your masher, discard or add back in as desired). Add hot milk mixture (discarding bay leaf) and stir to incorporate. Add buttermilk, mustard, chives and half of parsley and fold together, tasting and adding additional salt as needed. Pile into a serving dish and sprinkle with remaining parsley.
SHARE