Red Wine-Braised Beef in Potato Skins
Holiday 2017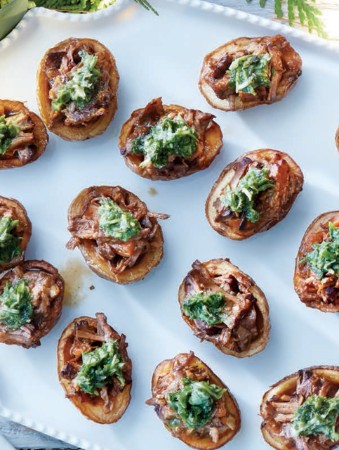 Red Wine-Braised Beef in Potato Skins
Holiday 2017
BY: Christopher St. Onge
All the components of this knockout hors d'oeuvre can be made ahead of time—even the fried potato skins. Which of course means it's party perfect. Frying in olive oil is a luxury here but common in Mediterranean countries where it is considerably cheaper than here. It does make for tasty potato skins, so it's worth a go if you're feeling flush.
2 tbsp (30 mL) olive oil, divided
1 tbsp (15 mL) butter
1 small onion, finely chopped
2 cloves garlic, finely chopped
¼ cup (60 mL) finely chopped carrot
¼ cup (60 mL) finely chopped celery
2 tsp (10 mL) finely chopped rosemary
1 tbsp (15 mL) tomato paste
1 tbsp (15 mL) all-purpose flour
1 lb (500 g) beef chuck
Salt and freshly ground black pepper
1 cup (250 mL) dry red wine
½ cup (125 mL) beef stock or water
1 bay leaf
18 mini yellow-flesh potatoes, halved
Peanut or olive oil for frying
Sea salt

ARUGULA SALSA VERDE
1 cup (250 mL) firmly packed arugula
2 tbsp (30 mL) fresh oregano leaves
1½ tsp (7 mL) red wine vinegar
1 clove garlic
2 oil-packed anchovy fillets
3 tbsp (45 mL) extra virgin olive oil
1. Preheat oven to 325°F (160°C).

2. Heat 1 tbsp (15 mL) oil with the butter in a Dutch oven or medium ovenproof pot with a tightfitting lid over medium heat. Sweat onion and garlic, stirring from time to time, for 3 minutes. Stir in carrot, celery and rosemary and continue to cook for 3 minutes longer or until vegetables are tender. Add tomato paste and flour; stir to combine. Turn out into a heatproof bowl and set aside.

3. Wipe pot clean and return to high heat; cut beef into 3 or 4 large chunks and season with salt and pepper. Add remaining 1 tbsp (15 mL) of oil to pot and brown beef on all sides, about 6 minutes total. Pour wine and stock over; stir in reserved vegetable mixture. Boil for 1 minute until thickened. Tuck in bay leaf, cover and place in oven for 2½ hours or until meat is fork-tender.

4. Meanwhile, prepare the potato halves by using a melon baller to scoop out most of flesh, leaving a ¼-inch (5-mm) layer of potato next to skin (reserve flesh for use in hash browns if you like). Heat a 2-inch (5-cm) depth of oil to 375°F (190°C). Fry potato skins in batches for 3 minutes or until golden; remove with a slotted spoon to a paper-towel-lined baking sheet; season with salt. Let drain. (Potato skins may be made up to 1 day in advance, covered and refrigerated until ready to warm and serve.)

5. Once beef is tender, remove from braising liquid and cut into ½-inch (1-cm) chunks. Return to liquid. (Beef may be made up to 5 days in advance and kept covered and refrigerated until ready to reheat and serve.)

6. No more than 2 hours before serving, combine all arugula salsa verde ingredients in a food processor and pulse until the consistency of pesto, scraping down sides as necessary.

7. When ready to assemble, heat beef and sauce on stovetop until warmed through; heat potatoes in a hot oven (anywhere from 375° to 425°F/190 to 220°C) for a minute. Spoon a little meat and sauce into each potato and garnish with a small amount of salsa verde.
SHARE