Red Potato with Corn, Pepper & Bacon
Autumn 2017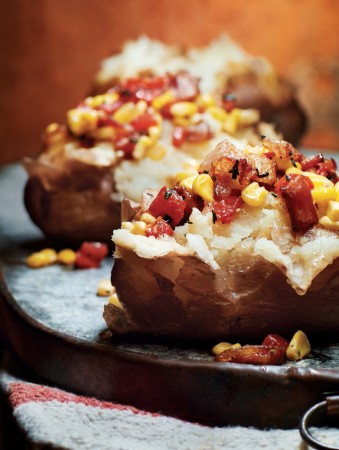 Red Potato with Corn, Pepper & Bacon
Autumn 2017
BY: Christopher St. Onge
Don't let the colourful vegetables here trick you into thinking this is a virtuous baked potato recipe. This is pure decadence, courtesy of crisp bacon and plenty of warm drippings. The vegetables provide some crunch while fresh thyme livens up the delicious earthiness of the potatoes.
4 large Red Gold, Cherry Red or other red potatoes suitable for baking, about 4 lbs (2 kg)
2 tbsp (30 mL) grape-seed, canola or sunflower oil
Salt and freshly ground black pepper
6 slices bacon, diced
1 clove garlic, finely chopped
Kernels from 2 cobs fresh corn, or 2½ cups (625 mL) frozen kernels
½ cup (125 mL) diced roasted red pepper
1 tbsp (15 mL) chopped thyme
2 tbsp (30 mL) butter
1. Preheat oven to 350°F (180°C) and arrange rack in centre.

2. Place potatoes in a large bowl and drizzle with oil; season liberally with salt and pepper. Place directly on rack and bake for 65 to 70 minutes or until tender.

3. Meanwhile, cook bacon in a large skillet over medium-low heat until lightly crisped, about 8 minutes; remove with a slotted spoon and set bacon aside. Measure out ¼ cup (60 mL) drippings and return to pan; discard excess.

4. Add garlic and corn to skillet, season with salt and pepper. Cook for 4 minutes over medium heat, stirring occasionally. Stir in roasted pepper, thyme and reserved bacon; cook an additional 4 minutes, stirring often, or until corn is tender. Remove from heat, add butter and stir until melted.

5. Split top of potatoes and fluff flesh with a fork; divide corn mixture between potatoes.
SHARE