Red Onion Tart Tatin
Holiday 2016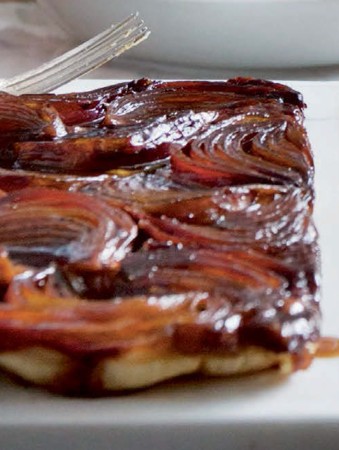 Red Onion Tart Tatin
Holiday 2016
BY: Christopher St. Onge
A savoury tart can be a beautiful thing. Make this before you slip the roast into the oven and later slide back on the clean baking sheet, onion-side up, to warm in the 300°F (150°C) oven for 10 minutes while the beef is resting. The specified baking sheet can be substituted with a 9 x 13-inch (23 x 33-cm) baking pan, however your tart will have a little farther to fall when turned out.
4 medium-size red onions, about 1½ lbs (750 g) total weight
¼ cup (60 mL) butter
Salt and freshly ground black pepper
⅓ cup (80 mL) balsamic vinegar
2 tbsp (30 mL) light brown sugar
2 tsp (10 mL) chopped rosemary
1 sheet pre-rolled puff pastry (225 g, from a 450-g pkg)
1 Cut onions in half lengthwise, trim root but leave core intact; peel. Cut each half onion into 4 equal wedges.

2 Preheat oven to 350°F (180°C).

3 Melt butter in a large skillet over medium-low. Working in batches if necessary, fry onions, undisturbed for 3 to 4 per minutes per side or until lightly golden. As they become ready, arrange in a single layer in a 9 x 12 x 1-inch deep (23 x 30 x 2.5-cm) baking sheet. Season with salt and freshly ground pepper.

4 Deglaze pan with vinegar; whisk in sugar to dissolve. Increase heat to medium, boil and reduce by half, about 2 minutes. Pour over onions. Sprinkle with rosemary.

5 On a lightly floured surface, roll out pastry to a 10 x 13-inch (25 x 33-cm) rectangle. Arrange over onions and tuck excess dough into edges of pan. Cut 4 small slits into dough and bake in preheated oven for 30 to 35 minutes or until dough is crisp and golden. Remove to a rack and let cool for 15 minutes.

6 Place a large flat board or platter large enough to hold tart over pan, invert, holding board in place, and turn tart out. Cut into desired number of pieces.
SHARE