Red Cabbage Slaw
Holiday 2010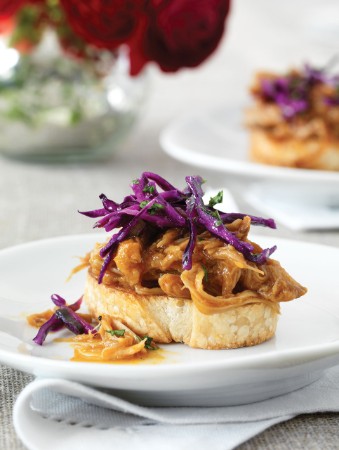 Red Cabbage Slaw
Holiday 2010
BY: Tonia Wilson-Vuksanovic
This is a nice topper as it gives some crunch and tang, a great accompaniment to the braised pork. Use any leftovers for sandwiches.
4 cups (1 L) red cabbage, very finely shredded
1 cup (250 mL) Granny Smith apple, grated
1/4 cup (50 mL) fresh cilantro, coarsely chopped
1/2 cup (125 mL) green onion, very finely chopped
1 tbsp (15 mL) white vinegar
1 cup (250 mL) store-bought poppy seed dressing
Salt and black pepper to taste
1 Stir together in a medium bowl the cabbage, apple, cilantro, onion, vinegar and dressing.

2 Let rest in the refrigerator for 30 minutes, stir and season to taste with salt and pepper.


SHARE