Raw Beet & Golden-Crusted Portobello Burger
Autumn 2020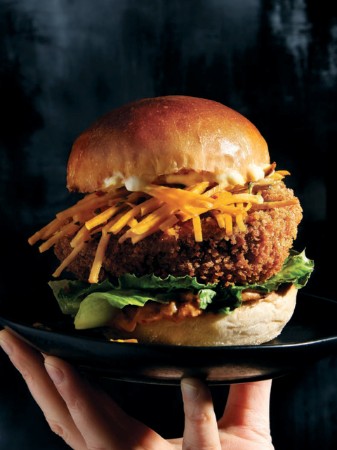 Raw Beet & Golden-Crusted Portobello Burger
Autumn 2020
BY: Victoria Walsh
Create the ultimate meatless burger with a panko-crusted portobello topped with beet slaw. The beet is grated and simply dressed, so its intense flavour comes through in the slaw. For a plant-based version, skip the goat cheese. Use any colour beets you like; be sure to grate and prepare right before serving to avoid discolouration.
DEEP-FRIED MUSHROOM BURGERS

4 large portobello mushroom caps
¾ to 1 cup (175 to 250 mL) all-purpose flour
2 eggs, beaten
1½ cups (375 mL) panko crumbs
Half a 130-g log chilled goat cheese (optional)
2 to 3 cups (500 to 750 mL) vegetable oil


BEET SLAW

1 large or 3 to 4 small beets
1 tsp (5 mL) olive oil
2 tsp (10 mL) white-wine vinegar
Pinch of salt and chili flakes
2 tbsp (30 mL) chopped cilantro
FOR BURGERS

4 small burger buns, toasted
Favourite burger toppings and condiments such as sliced tomatoes, onion, lettuce, avocado, mayonnaise and mustard
1. Wipe mushrooms clean. Place flour, eggs and panko in separate shallow dishes. Cut 4 coin-shaped pieces from goat-cheese log. Press 1 piece into mushroom (where stem was removed) maintaining the cheese's coin shape. Working with 1 mushroom at a time, dust a cap including goat cheese with flour. Lightly coat in egg. Crust with panko. Set on a plate. Repeat with remaining mushrooms.
2. Prepare slaw. Peel and grate beets. You should have about 1 cup (250 mL). Stir with 1 tsp (5 mL) oil then vinegar, salt and chili flakes. Sprinkle with cilantro. Set aside.
3. Pour oil into a large deep frying pan. Set over medium-high heat. Heat oil to 350°F (180°C), adjusting heat as needed.
4. Deep-fry coated mushrooms until tender, 8 to 10 minutes per side, carefully turning halfway through. Using a slotted spoon, carefully remove golden mushrooms to a papertowel-lined plate. Using more paper towel, pat excess oil from burgers.
5. Stack warm mushroom burgers on toasted buns. Stir slaw then divide between burgers. Sandwich with your favourite toppings and condiments.
SHARE