Ratatouille Tart
Début de l'été 2006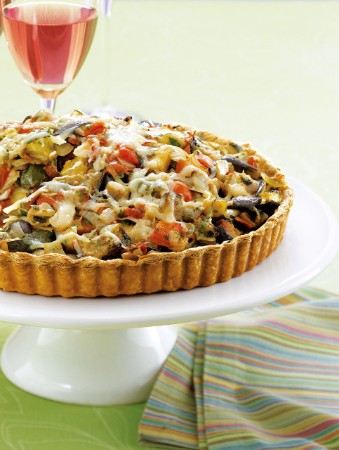 Ratatouille Tart
Début de l'été 2006
BY: Lucy Waverman
This method for making ratatouille is unorthodox but wonderful. The vegetables and tomatoes are roasted together with lots of fresh herbs and garlic. It is an outstanding make-ahead dish that also works beautifully when tossed with pasta. Cut all vegetables into about ½-inch (1-cm) dice. Vary the quantity of vegetables, if desired, ratatouille is a free-hand dish. Sicilian eggplants are football-shaped and are sweeter and less seedy than the regular ones. They also have a slightly different texture. If they are unavailable, use regular ones. This method of making tart shells using frozen puff pastry is also unorthodox but gives an excellent final product. The French cheese adds a more Mediterranean taste to the dish, but you can substitute fontina or even cheddar in a pinch.
Tart Shell
½ pkg frozen puff pastry, defrosted

Ratatouille
2 cups (500 mL) chopped onions
1Sicilian eggplant, chopped
4 cups (1 L) chopped zucchini
1 red pepper, chopped
3½ cups (875 mL) chopped plum tomatoes
4 cloves garlic, finely chopped
3 tbsp (45 mL) slivered fresh basil
2 tbsp (25 mL) chopped fresh thyme
2 tbsp (25 mL) chopped fresh oregano
Salt and freshly ground pepper
1 tbsp (15 mL) Dijon mustard
1/3 cup (75 mL) olive oil
¼ cup (50 mL) chopped parsley
1½ cup (375 mL) grated French Morbier or Comte cheese
1. Preheat oven to 400°F (200°C).

2. Roll out puff pastry to fit a 9-inch (23-cm) loose-bottom flan pan. Trim pastry flush with edge of pan and prick with a fork. Cover with parchment paper and place a metal pot or saucepan slightly smaller than the tart on top of the parchment paper. Bake in the lower third of the oven for 30 minutes or until pastry is golden and crisp. Remove pot and parchment paper and cool.

3. Combine onion, eggplant, zucchini, pepper and tomato in a large bowl. Stir in garlic, basil, thyme and oregano. Season well with salt and pepper.

4. Whisk together mustard and oil. Toss vegetables with mixture. Spread vegetables in a large baking pan or cookie sheet and bake for 50 minutes to 1 hour, stirring after 20 minutes, until vegetables are tender and slightly browned but not soupy.

5. Reduce oven temperature to 350°F (180ºC).

6. Toss vegetables with parsley and 1 cup (250 mL) grated cheese. Pile vegetables in pastry. Sprinkle with remaining ½ cup (125 mL) cheese. Place tart on a baking sheet and bake for 15 minutes or until vegetables are hot and cheese is melted. Serve hot or cold.
SHARE