Rare Roast Beef with Niçoise Mayonnaise
Early Summer 2002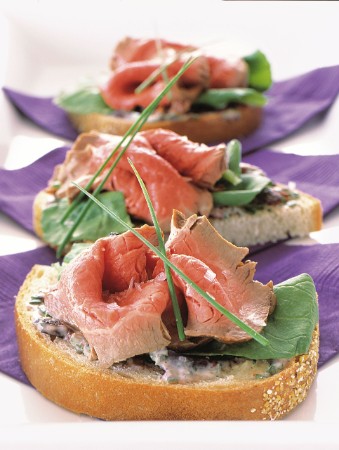 Rare Roast Beef with Niçoise Mayonnaise
Early Summer 2002
BY: Lucy Waverman
Although you can buy ready-sliced roast beef for this sandwich, it is best made with your own roasted tenderloin of beef (recipe follows). The slices are much prettier and the taste is superb. Any left-over niçoise mayonnaise is excellent served as a sauce with all kinds of cold food.
1/2 cup (125 mL) mayonnaise
1/4 cup (50 mL) chopped parsley
1/4 cup (50 mL) chopped chives
1 tbsp (15 mL) lemon juice
1/4 cup (50 mL) chopped sun-dried tomatoes
1/4 cup (50 mL) chopped black olives
6 slices light rye, crusts removed
1 bunch arugula
12 slices rare roast tenderloin of beef
About 24 garlic chives or regular chives
Fleur de sel or sea salt
1. Combine mayonnaise, parsley, chives, lemon juice, sun-dried tomatoes and olives in a bowl.

2. Cut bread in half. Spread 1 to 2 tbsp (15 to 25 mL) mayonnaise mixture on bread, depending on size of bread.

3. Cover with arugula leaves. Roll roast beef in a flower-like pattern and place on top. Garnish with garlic chives and sprinkle lightly with fleur de sel.

Roasted Beef Tenderloin
The thickness of the beef regulates the timing. For rare beef, roast for 10 minutes to the inch (2.5 cm) measured vertically at the thickest part. It continues to cook as it cools.

1 lb (500 g ) beef tenderloin
2 tbsp (25 mL) olive oil
1 tsp (5 mL) chopped garlic
1 tsp (5 mL) coarsely ground peppercorns
Kosher salt to taste


1. Preheat oven to 450°F (230°C).

2. Place tenderloin in small roasting pan and rub with oil. Sprinkle with garlic, peppercorns and salt.

3. Roast for 20 to 25 minutes or until rare. Cool. Slice into thin slices for sandwiches.
SHARE