Steamed Rapini with Gremolata Butter
Automne 2018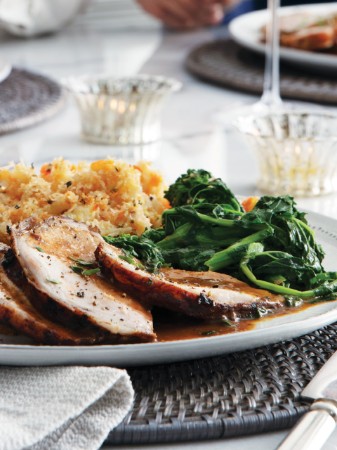 Steamed Rapini with Gremolata Butter
Automne 2018
BY: Julia Aitken
The traditional topping for osso bucco adds punchy flavour to this simple side.
2 tbsp (30 mL) unsalted butter, softened
1 tbsp (15 mL) finely chopped parsley
2 tsp (10 mL) finely grated lemon zest
1 tsp (5 mL) finely minced garlic
Kosher salt and freshly ground black pepper to taste
2 bunches rapini
1. In a small bowl, stir together butter, parsley, lemon zest, garlic and salt and pepper to taste. Set aside.

2. Trim stem ends from rapini and discard any wilted or damaged leaves. Cut remaining leaves and crowns from stems and set aside.

3. With a small paring knife, peel stems, then cut diagonally into ½-inch (1-cm) pieces.

4. Have ready a large bowl lined with a couple of sheets of paper towel. In a large steamer basket set over boiling water, steam rapini, covered, until just tender, 2 to 3 minutes.

5. With tongs, transfer rapini to paper-towel-lined bowl. Shake bowl gently to dry rapini.

6. Remove paper towel, leaving rapini in bowl. Add gremolata butter to bowl and toss gently to coat rapini. Transfer to a warm serving platter and serve at once.
SHARE