Rapini Galette
Début de l'été 2016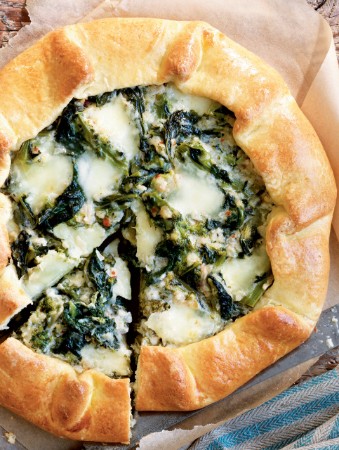 Rapini Galette
Début de l'été 2016
BY: Lucy Waverman
This magnificent Italian-style galette eliminates the need for breads at brunch. It is made with a soft, very simple yeast pastry that is slightly bread-like. I used rapini as its slightly bitter flavour gives a real zing to the filling. Alternatively, use spinach, dandelion greens, Swiss chard or a mixture of greens. If you don't want to make a béchamel (white) sauce, then combine 3 eggs with ½ cup (125 mL) of milk and stir into greens mixture. The texture is not as lush but this will save the step of making the béchamel.
YEAST DOUGH
⅓ cup (80 mL) warm water
1 tsp (5 mL) dry yeast
¼ cup (60 mL) sugar
1 egg, beaten
1½ cups plus 2 tbsp (375 plus 30 mL) flour
3 tbsp (45 mL) soft butter, cut into pieces
½ tsp (2 mL) salt

BÉCHAMEL
3 tbsp (45 mL) butter
¼ cup (60 mL) all-purpose flour
2 cups (500 mL) warm milk
Salt and freshly ground pepper

FILLING
1 bunch rapini
2 tbsp (30 mL) olive oil
1 cup (250 mL) finely chopped shallots
2 tsp (10 mL) chopped garlic
½ tsp (2 mL) chili flakes
½ cup (125 mL) grated Parmesan
½ cup (125 mL) cubed buffalo mozzarella
1 tbsp (15 mL) sherry vinegar
Salt and freshly ground pepper

EGG WASH
1 egg, beaten with ¼ tsp (1 mL) salt
1 To make dough, place warm water in a medium bowl. Sprinkle over yeast and sugar and stir until they dissolve. Let stand for 10 to 15 minutes or until foamy.

2 Scrape yeast mixture into the bowl of a food processor. Add egg, flour, butter and salt. Process for 10 seconds. Scrape down bowl and pulse 5 or 6 times to form a dough. Dough will be soft.

3 Place dough in a clean, lightly oiled bowl and cover with a clean tea towel. Set in a warm place for 1 hour or until dough is puffy and airy. The dough will not double in size.

4 To make béchamel sauce, melt butter in a small pot over medium heat. Add flour and cook for 2 to 3 minutes, stirring constantly, to form a roux. Pour in ½ cup (125 mL) milk and stir until mixture is smooth. Gradually pour in remaining milk, continuing to stir until mixture comes to a boil. Remove from heat. Pour through a strainer if it is lumpy. Season with salt and pepper. Reserve.

5 To make filling, bring a pot of salted water to a boil. Add rapini and cook for 2 to 3 minutes or until crisp-tender. Drain and rinse with cold water until no longer hot. Squeeze out excess water. Chop into 1-inch (2.5-cm) pieces.

6 Heat oil in a skillet over medium heat. Add shallots and cook for 3 minutes. Add garlic and chili flakes and cook for 2 more minutes or until shallots are tender. Stir in rapini, Parmesan, buffalo mozzarella, vinegar and 1 cup (250 mL) béchamel. Remove from heat and season to taste.

7 Preheat oven to 400°F (200°C).

8 Lightly flour a piece of parchment paper. Punch down dough on parchment and roll out into a 12-inch (30-cm) circle. Lift parchment and dough onto a baking sheet.

9 Scrape filling into centre of dough, leaving a 2-inch (5-cm) perimeter. Fold edges of dough up over filling, creating overlapping folds all the way around. Brush dough with egg wash. Bake for 25 minutes or until filling has set and dough is deep golden.
SHARE