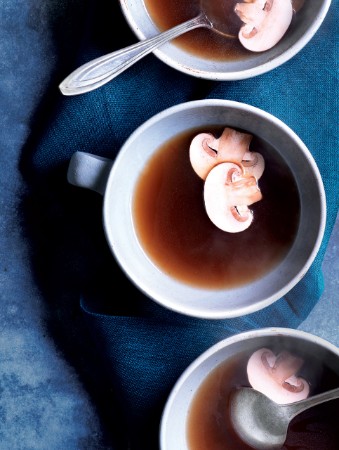 BY: Lucy Waverman
Buy ramen noodles and boil separately. Look for them frozen in Asian stores or use the noodles from an instant noodle package and discard the sauce. Add shiitake mushrooms, green onions, baby bok choy or anything else you like to the Umami Stock (recipe follows). Cook for a few minutes, then add the noodles. Finish with a soft-boiled egg. Garnish with pieces of nori partially immersed in the soup.
UMAMI STOCK

Umami, the Japanese word for delicious, is known as the fifth taste or the savoury taste after sweet, salty, sour and bitter. It comes from ingredients such as mushrooms, tomatoes, Parmesan and mushrooms. This stock is full of these ingredients and as such will enhance anything it is paired with. For the best flavour, use dried porcini mushrooms rather than mixed ones.

2 medium tomatoes, coarsely chopped, or 2 canned tomatoes
2 leeks, coarsely chopped
1 cup shiitake mushroom stems
4 shiitake mushrooms
6 oz (175 g) cremini mushrooms, quartered
4 oz ( 125 g) pancetta, coarsely chopped
2 oz (60 g) Parmesan rind
1 oz (30 g) porcini or mixed mushrooms, dried
4 garlic cloves, halved
4 peppercorns
1 tbsp (15 mL) soy sauce
1 Combine ingredients in a large pot. There will be about 8 cups (2 L) in total. Add 12 cups (3 L) water or enough to cover vegetables by1 inch (2.5 cm).

2 Bring to a boil. Reduce heat and simmer, uncovered, for 2½ to 3 hours or until liquid has reduced by about one-third and broth is flavourful.

3 Strain into large bowl. Reserve pancetta, if desired, and discard remaining ingredients.
Makes 5 cups (1.25 L) broth
SHARE