Rainbow Trout Tacos
Early Summer 2015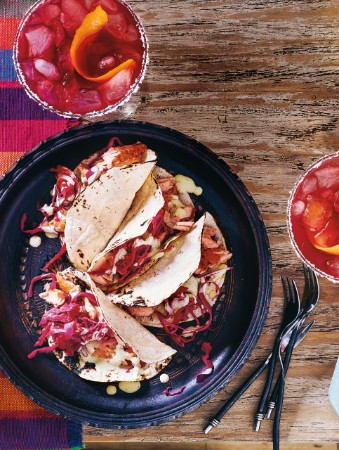 Rainbow Trout Tacos
Early Summer 2015
BY: Amy Rosen
There's nothing trendier than tacos, and here we've put a Canadian spin on them by using local trout, simply marinated, before pan-frying. Then we've pumped up the fresh flavours with a herbaceous mayo and a zingy slaw.
PICKLED SLAW
½ head red cabbage, cored and very thinly sliced, about 4 cups (1 L)
½ red onion, very thinly sliced, about 1 cup (250 mL)
2 cups (500 mL) apple cider vinegar
1 tbsp (15 mL) sugar
¼ tsp (1 mL) kosher salt

MARINATED TROUT
¼ cup (60 mL) olive oil
1 tsp (5 mL) dried oregano
1 tsp (5 mL) cumin powder
1½ lbs (750 g) fresh boneless rainbow trout fillets (or salmon)
Salt to taste

CILANTRO MAYO
1 cup (250 mL) mayonnaise
¼ cup (60 mL) milk
Juice of 2 limes, about ¼ cup (60 mL)
¼ cup (60 mL) fresh cilantro, minced
¼ tsp (1 mL) garlic powder
½ tsp (2 mL) salt

6 corn tortillas, 4 inches (10 cm), charred with tongs on element
Extra lime wedges for garnish
1 Combine all pickled slaw ingredients in a non-reactive bowl, stir well, cover, and refrigerate for at least several hours before serving.

2 Mix together marinade ingredients, pour over fish and marinate for 30 minutes.

3 Heat a large nonstick sauté pan over medium-high heat. Remove trout from marinade and place in the hot pan (no need to add extra oil). Season fish with salt.

4 Cook for 4 minutes on first side, carefully flip fillets, and cook for another 2 minutes or until cooked through. Remove from pan, peel away and discard skin, and break fish into large chunks.

5 Add all mayo ingredients to blender and blitz until smooth. Refrigerate until using.Makes 1½ cups (375 mL).

6 Divide fish among warm, charred tortillas, top with pickled slaw, drizzle with cilantro mayo and serve with a wedge of lime.
SHARE