Radish Carpaccio with Feta & Pumpkin Seeds
Early Summer 2016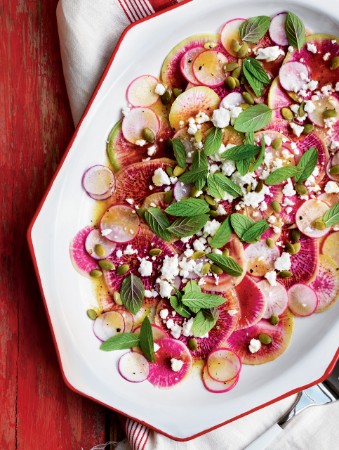 Radish Carpaccio with Feta & Pumpkin Seeds
Early Summer 2016
BY: Julia Aitken
While any radish works for this simple salad, a mix of prettily pink Watermelon radishes and either Easter Egg or Cherry Belle radishes makes a particularly stunning presentation. Prepare the salad just before serving (radishes tend to weep if prepped ahead) and serve as an appetizer or anaccompaniment to grilled lamb or chicken.
3 tbsp (45 mL) extra virgin olive oil
1 tbsp (15 mL) fresh orange juice
1 tsp (5 mL) liquid honey
½ tsp (2 mL) ground cumin
Kosher salt and freshly ground black pepper to taste
1 large watermelon radish, peeled, 7 oz (210 g)
6 medium Easter Egg or Cherry Belle radishes, scrubbed and trimmed
¼ cup (60 mL) finely crumbled feta
2 tbsp (30 mL) roasted, salted pumpkin seeds
Small fresh mint leaves for garnish
1 In a small bowl, whisk together olive oil, orange juice, honey, cumin, salt and pepper to taste. Set aside.

2 With a mandolin slicer (or a very sharp knife and a steady hand), cut radishes crosswise into very thin slices. (If watermelon radish is too large to fit mandolin, cut it in half before slicing.)

3 Arrange radish slices, more or less in a single layer, on a large serving platter or 4 individual plates. Drizzle with orange-cumin dressing.

4 Sprinkle with feta and pumpkin seeds. Scatter with mint leaves. Serve at once.
SHARE