Radish Buttermilk Soup
Early Summer 2010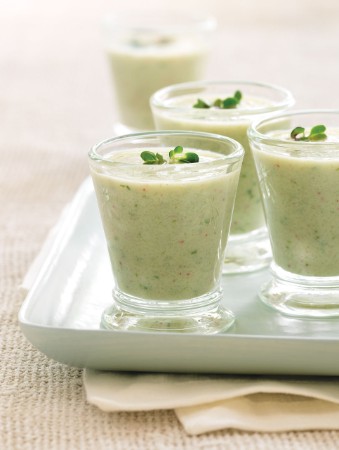 Radish Buttermilk Soup
Early Summer 2010
The peppery radish is the perfect partner for cool cucumber and tangy buttermilk in this chilled early summer soup. It's ideal as a small shot for a cocktail party or the delicate beginnings of a brunch or lunch menu.
1 cup (250 mL) sliced radishes
2 cups (500 mL) chopped cucumbers
2 cups (500 mL) chilled buttermilk
2 tbsp (25 mL) chopped chives
2 tsp (10 mL) minced ginger root
1 tsp (5 mL) sugar
½ tsp (2 mL) salt

Garnish

Thin slices of radishes or radish sprouts
1. In a blender, combine radishes, cucumbers, buttermilk, chives, ginger root, sugar and salt. Blend on high until smooth.

2. Keep covered and refrigerated until ready to serve. Whisk slightly before serving (soup should be frothy).
SHARE