Radish & Roasted Beet Salad
Début de l'été 2013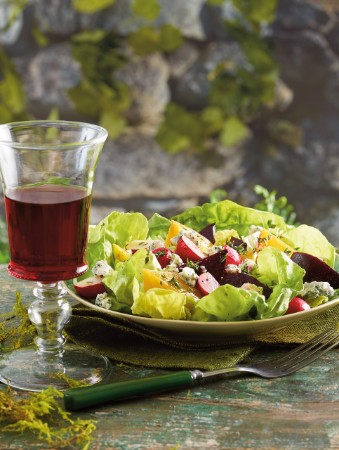 Radish & Roasted Beet Salad
Début de l'été 2013
BY: Jennifer MacKenzie
Sweet roasted beets contrast the heat of freshly picked radishes and both are complemented by the tangy dressing and pungent cheese in this summery salad. It's equally lovely with red beets or golden ones. If you have lemon thyme, use it in the dressing for an extra lemony burst.
8 small beets, about 1½ lbs (750 g)
¼ cup (60 mL) olive oil
Salt and freshly ground pepper
2 tbsp (30 mL) fresh lemon juice
½ tsp (2 mL) granulated sugar or liquid honey
½ tsp (2 mL) finely chopped fresh thyme
8 red radishes, cut in half or quartered, if large
1 small head butter lettuce, leaves separated
2 oz (60 g) blue cheese, crumbled (⅓ cup/80 mL)
1 Preheat oven to 400°F (200°C).

2 Peel beets and cut off long tap roots. Cut each into 4 to 6 wedges. Toss with 1 tbsp (15 mL) of the oil and salt and pepper, to taste, in a large baking dish. Spread into a single layer. Roast in preheated oven for about 45 minutes, stirring occasionally, or until beets are tender. Let cool slightly or completely. (Roasted beets can be wrapped and refrigerated for up to 2 days. Let warm to room temperature before serving.)

3 For the dressing, whisk together lemon juice, sugar and thyme in a bowl. Gradually whisk in remaining oil, then season with salt and pepper to taste.

4 Add beets and radishes to dressing and toss to coat. Arrange lettuce leaves on serving plates. Top with beet and radish mixture and sprinkle with blue cheese.
SHARE