Roast Maple Radishes
Début de l'été 2016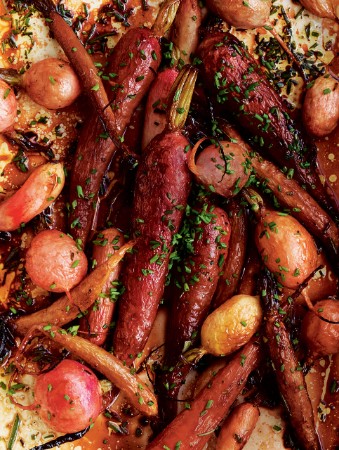 Roast Maple Radishes
Début de l'été 2016
BY: Julia Aitken
For fun, choose a variety of radishes for this easy side that's good with almost anything. We like slim, carrot-like ruby-red Cincinnati or ivory-coloured Icicle as well as Easter Egg, French Breakfast or good old Cherry Belles. The Cincinnati and Icicle radishes take about 40 minutes to roast; the other varieties, just 20.
30 radishes
2 tbsp (30 mL) maple syrup
1 tbsp (15 mL) olive oil
1 tbsp (15 mL) finely chopped fresh rosemary
Kosher salt and freshly ground black pepper to taste
1 tbsp (15 mL) unsalted butter
1 tbsp (15 mL) aged balsamic vinegar or balsamic glaze
1 tbsp (15 mL) finely chopped chives
1 Preheat oven to 400°F (200°C).

2 Scrub radishes gently, trimming off any side roots from Cincinnati and Icicle radishes. Trim radishes, leaving ½ inch (1 cm) of tops and most of root ends.

3 In a medium shallow roasting pan, toss Cincinnati and Icicle radishes with maple syrup, olive oil, rosemary, salt and pepper to taste. Dot with butter.

4 Roast, uncovered and stir occasionally, for 20 minutes. Add Easter Egg, French Breakfast and/or Cherry Belle radishes (if using). Continueto roast, stirring occasionally, until radishes are browned and tender, about 20 more minutes.

5 Add balsamic and chives and toss well.
SHARE