Radicchio and Roasted Grape Salad
Temps des Fêtes 2013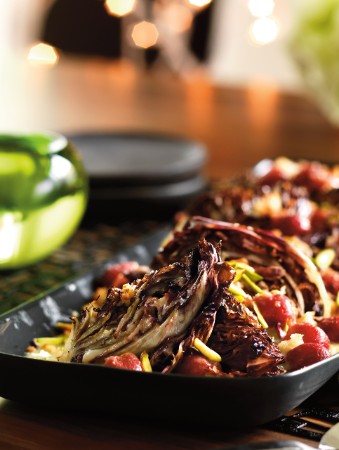 Radicchio and Roasted Grape Salad
Temps des Fêtes 2013
BY: Lucy Waverman
The unusual combination of ingredients in this salad gives it a unique, fresh flavour. Roasted radicchio combined with roasted grapes is an almost unheard-of pairing. The slight bitterness of the radicchio is o›set by the sweetness of the grapes, which become even sweeter through roasting. Green pistachios are the final touch.
2 small heads radicchio
3 tbsp (45 mL) olive oil
Salt and freshly ground pepper
1 lb (500 g) red seedless grapes

HONEY VINAIGRETTE
2 tbsp (30 mL) lemon juice
1 tbsp (15 mL) mayonnaise
1 tsp (5 mL) honey
¼ cup (60 mL) olive oil
Salt and freshly ground pepper

GARNISH
1 tbsp (15 mL) olive oil
2 tbsp (30 mL) fresh bread crumbs
2 tbsp (30 mL) chopped parsley
¼ cup (60 mL) slivered pistachios
1 Preheat oven to 450°F (230°C).

2 Cut each radicchio through the core into4—wedges and place in a bowl. Drizzle with2—tbsp (30 mL) olive oil and season with salt and pepper. In a separate bowl, toss grapes with remaining 1 tbsp (15—mL) oil.

3 Place radicchio on a baking sheet. Bake for 8 to 10 minutes or until edges start to brown. Remove to a platter. Place grapes on baking sheet and bake for 10 to 15 minutes or until grapes have just softened and the skins are beginning to split.

4 Stir together lemon juice, mayonnaise and honey in a bowl. Slowly whisk in olive oil. Season with salt and pepper.

5 Heat oil in a small skillet over medium. Add bread crumbs and cook, stirring until golden. Remove from heat and stir in parsley.

6 Arrange radicchio and grapes on plates. Sprinkle with pistachios and bread crumb mixture and drizzle with vinaigrette.
SHARE