Rack of Lamb with Spiced Gastrique
Holiday 2016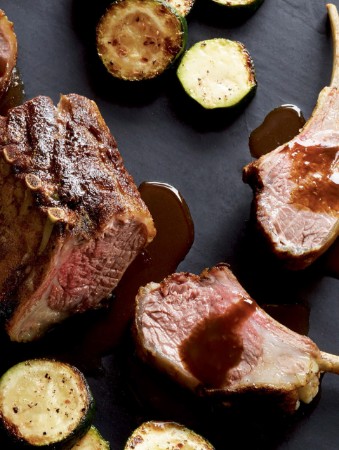 Rack of Lamb with Spiced Gastrique
Holiday 2016
BY: Lucy Waverman
Tired of garam masala and other spice combinations? Ras el Hanout is a North African spice mixture that is not hot but has a beautiful layered flavour. You can buy Ras el Hanout at some supermarkets and specialty shops that have a good Middle Eastern spice selection. The mixture varies and is usually handed down through families. The recipe here is my personal favourite as I have adjusted it to suit my taste. A gastrique is a reduced sauce with a touch of sweetness. This one enhances the lamb flavour. Serve with sautéed sliced zucchini and a combination of mashed roots such as potatoes, turnips and parsnips. Store any extra spice mixture for another use.
SPICED GASTRIQUE
2 cups (500 mL) veal or beef stock, homemade or store-bought, low sodium
3 tbsp (45 mL) balsamic vinegar
1 tbsp (15 mL) brown sugar
1 tbsp (15 mL) Ras el Hanout (recipe follows)
Salt

2 tbsp (30 mL) olive oil
2 racks of lamb, about 1¼ lbs (625 g) each
1 tbsp (15 mL) Ras el Hanout
1 Bring stock to a boil in a saucepan. Reduce heat and simmer for about 10 minutes, or until reduced to 1½ cups (375 mL). Reserve.

2 Combine vinegar, brown sugar and Ras el Hanout over medium heat, stirring for about 5 minutes or until sugar dissolves. Stir in reduced stock. Simmer gently for about 6 to 8 minutes or until sauce is thick and glossy and coats the back of a spoon. Season with salt if needed. Set gastrique aside and reheat when needed.

3 Preheat oven to 425°F (220°C).

4 Rub 1 tbsp (15 mL) oil into lamb racks, then evenly sprinkle over about 1 tbsp (15 mL) Ras el Hanout on each rack until well coated. Season with salt.

5 Heat remaining 1 tbsp (15 mL) oil in a large skillet over high heat and brown racks, 1 to 2 minutes per side. Place on a rack in roasting pan and roast for 25 to 30 minutes for medium-rare or until meat reaches desired doneness. Let stand 10 minutes before slicing.

6 Slice racks into individual chops, giving 3 or 4 per person, and drizzle with spiced gastrique.
RAS EL HANOUT
Double the recipe to have more on hand and use it on pork and beef. It will keep for up to 6 months. Occasionally I add 1 tsp (5 mL) star anise into it when I want a slightly more licorice profile. That works well with chicken, for example.

1½ tsp (7 mL) coriander seeds
1 tsp (5 mL) black peppercorns
1 tsp (5 mL) cumin seeds
1 tsp (5 mL) ground turmeric
½ tsp (2 mL) ground allspice
½ tsp (2 mL) ground cinnamon
½ tsp (2 mL) ground ginger
¼ tsp (1 mL) freshly ground nutmeg
¼ tsp (1 mL) ground cardamom
½ tsp (2 mL) salt
1 Toast coriander seeds, peppercorns and cumin seeds in a small skillet over medium-low heat for 1 to 2 minutes or until fragrant. Let cool slightly and process in spice grinder until fine powder. Stir in turmeric, allspice, cinnamon, ginger, nutmeg, cardamom and salt.
Comments: Makes about 2 tbsp (30 mL)
SHARE