Rösti Benedict
Spring 2008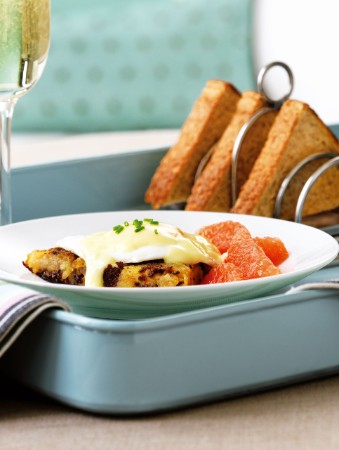 Rösti Benedict
Spring 2008
BY: Marilyn Bentz-Crowley
Stacked food, strikingly presented, is customary at Vancouver Island's Sooke Harbour House. Here's one in their style, a crispy potato cake laced with bits of bacon, topped with an egg and drizzled with buttery sauce.
2 lb (1 kg) potatoes, preferably red-skinned or yellow-fleshed
½ tsp (2 mL) salt
Grindings of black pepper
1 green onion, thinly sliced
4 slices bacon
2 tbsp (25 mL) canola oil

Hollandaise (see Tip)
1 cup (250 mL) salted butter
3 egg yolks
1 tbsp (15 mL) milk
1 tbsp (15 mL) freshly squeezed lemon juice
Pinch of cayenne

6 eggs
Snippets of chives
1. Cover potatoes with cold water in a large pot. Bring to a boil over high heat then reduce heat and simmer, partially covered, for 20 to 25 minutes or until tender when pierced. Drain; cover with cold water. Drain again; cool completely. (Potatoes can be cooked ahead, covered and refrigerated for up to 2 days.) Peel and coarsely shred. Gently toss with salt, pepper and green onions.

2. Cut bacon crosswise into ¼-inch (5-mm) lardons. Heat a large frying pan, preferably cast-iron or nonstick, over medium heat. When hot, add bacon; sauté, stirring occasionally for 5 minutes or until browned and crisp. Remove bacon from pan to a paper towel; cool slightly and toss with potatoes. Leave about a tablespoon of fat in pan, discarding rest.

3. Add 1 tbsp (15 mL) oil to bacon fat; heat over medium heat until very hot. Add potatoes, spreading evenly. Reduce heat to medium-low, shape cake with a spatula, pressing down lightly on shreds for even top and sides. Sauté for 12 to 15 minutes or until underside is golden brown; loosen bottom with spatula.

4. Place a plate over the rösti in pan and flip so rösti is removed from pan, resting on the plate, golden-side up. Add remaining tbsp (15 mL) oil to pan; when hot, slide rösti from plate into pan leaving golden-side up. Reshape if needed. Sauté 12 to 15 minutes or until underside is golden brown. (While it will be somewhat heavier than freshly made, rösti can be made ahead; cover and refrigerate for up to 2 days. Reheat for 10 to 15 minutes in a preheated 425°F (220°C) oven or until hot and crispy.)

5. To make hollandaise, heat butter until quite hot but not boiling. (Use a small saucepan over low heat or microwave in a 2 cup (500 mL) measuring cup for 1 to 2 minutes.) Place egg yolks and milk in blender; whirl briefly. Then, while whirling at high speed, add half of hot butter in a steady stream. Mixture appears milky. Whirl in lemon juice and cayenne, then remaining butter in a steady stream. Sauce keeps well at room temperature for an hour or more.

6. Over medium-low heat, break eggs into a frying pan lightly coated with nonstick spray. Cook for 5 to 6 minutes or until set, sunny-side up or turning briefly for over-easy eggs. Meanwhile cut rösti into 6 wedges; place on warmed serving plates. Top with an egg, a generous drizzle of hollandaise and a few snippets of chive. Serve right away with whole-wheat toast and fresh fruit such as melon, grapefruit and strawberries.

Tip: Any remaining hollandaise can be covered and refrigerated for up to a week. Spread like butter over hot vegetables such as cauliflower or broccoli.
SHARE