Quinoa-Crusted Pork Cutlets with Peas & Mint
Spring 2018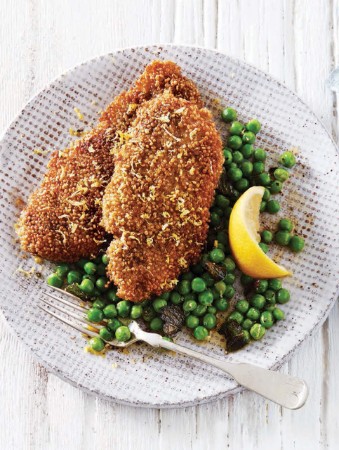 Quinoa-Crusted Pork Cutlets with Peas & Mint
Spring 2018
BY: Monda Rosenberg
Thinly sliced boneless pork chops are cut from the loin, so tenderness is guaranteed. However, their flavour is mild, so the challenge is to boost taste. Adding a super-healthy quinoa coating, spiked with Dijon and sage, revs up the taste and creates crispy crunchy cutlets you don't have to feel guilty about devouring. Because the thickness of packaged chops varies, packages of the same weight vary in the number of pieces they hold. The following coating will easily cover 9 pieces. A side of fresh sweet peas is an explosion of spring taste—add new potatoes and dinner's done!
1 cup (250 mL) quinoa
3 eggs
3 tbsp (45 mL) Dijon mustard
⅓ cup (80 mL) all-purpose flour
1 tbsp (15 mL) ground sage
1 tsp (5 mL) salt
9 thin-sliced boneless pork chops, about 12 oz (375 g) total
2 to 3 tbsp (30 to 45 mL) butter, divided
2 cups (500 mL) fresh spring peas
½ cup (125 mL) torn or shredded fresh mint leaves
1 lemon, optional
1. Prepare quinoa following package directions. Place in a medium shallow bowl, then separate grains with a fork. In a second similar bowl, whisk eggs with Dijon until fairly smooth. In a third bowl, stir flour with sage and salt.

2. Lay a large piece of waxed paper on the counter. Coat 1 chop with flour mixture on both sides. Shake off excess. Then coat with egg mixture on both sides, letting excess drip back into dish. Coat with quinoa on both sides, gently pressing coating to help it adhere (a fork is useful here). Place on waxed paper. Repeat with remaining pieces.

3. Heat a large skillet over medium heat. Add 1 tbsp (15 mL) butter and tilt to coat pan. Add 3 pieces of pork. Cook until golden, about 1½ minutes a side. Remove and repeat with remaining butter and pork. If pieces are browning too quickly, reduce heat.

4. Meanwhile, place peas in a saucepan with a generous pinch of salt and cover with water. Bring to a boil and boil gently until bright green, 2 to 3 minutes. Drain and toss with mint.

5. Grate lemon peel over chops, if you like, and serve with lemon wedges for squeezing overtop.
SHARE