Quince and Pecan Cake
Automne 2006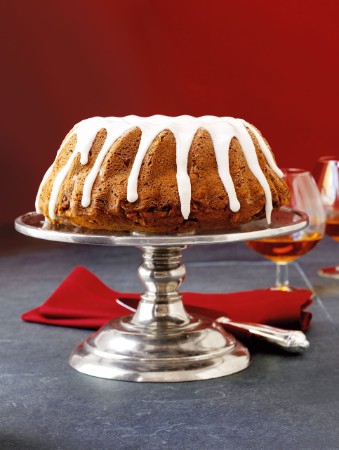 Quince and Pecan Cake
Automne 2006
BY: Jennifer McLagan
This recipe is based on one by Australian chef and food writer Stephanie Alexander. It is a rich moist spice cake.
1 cup  (250 mL) unsalted butter
3 cups (750 mL) flour
2 tsp (10 mL) baking soda
2 tsp (10 mL) ground allspice
2 tsp (10 mL) ground cinnamon
2 tsp (10 mL) ground ginger
Pinch salt
1 cup (250 mL) coarsely chopped toasted pecans
2 cups (500 mL) poached, drained, diced quinces (recipe follows), about 3 to 4 quinces
2 eggs
1 cup (250 mL) packed brown sugar
½ cup plus 2 tbsp (125 mL plus 25 mL) quince cooking liquid
1 cup (250 mL) icing sugar
1 tsp (5 mL) freshly squeezed lemon juice
1. Preheat oven to 350ºF (180ºC).

2.  Butter a 9-inch (23-cm) ring tin and dust it with flour; set aside.

3.  Melt the butter and leave to cool. Sift the flour, baking soda, allspice, cinnamon and salt into a large bowl. Stir in the chopped nuts and diced quince.

4.  Whisk the eggs and brown sugar and then pour in the melted butter and ½ cup (125 mL) quince poaching liquid. Add to the flour mixture, stirring gently until well mixed. Spoon the mixture into the prepared tin and smooth the top.

5.  Bake for 45 minutes or until a skewer inserted into the centre of the cake comes out clean. Leave the cake to cool in the pan for 15 minutes.

6.  Turn out the cake and place it on a rack over a plate. Sift the icing sugar into a bowl and whisk in the remaining quince liquid and lemon juice. Pour over the cake.

Oven-Poached Quinces

4 green quinces
2 cups (500 mL) sugar
1 vanilla bean, split, or lemon verbena
Juice of 1 lemon
1. Preheat the oven to 325ºF (160ºC).

2. Wash the quinces well, removing any grey down, then set aside.

3. In a saucepan, bring 3 cups (750 mL) water and the sugar to a boil over medium heat, stirring to dissolve the sugar. Boil for 1 minute, add the vanilla bean or lemon verbena. Peel the quinces, keeping the peel, and cut the quinces in half lengthwise. Using a melon baller, remove the core. Place the quinces, rounded-side down, in a baking dish, adding the peel and cores.

4. Pour over the sugar syrup and then cover the quinces with aluminum foil. Bake them, turning the quinces every half hour for 2 to 2½ hours or until the quinces are very tender.

5. Using a slotted spoon, transfer the cooked quinces to a dish. Strain the cooking liquid through a sieve into a saucepan. Add the lemon juice and bring to a boil and boil for 15 minutes or until reduced by half and syrupy. Pour this syrup over the quinces and allow them to cool; the cooking liquid will set into a light jelly.
SHARE