Quick Nine-Day Pickles
Autumn 2004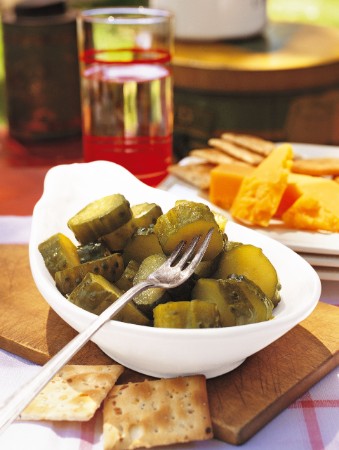 Quick Nine-Day Pickles
Autumn 2004
BY: Laurie McGill - Prize Winner 2003 - Glencoe Fair
These Nine-Day pickles from Laurie McGill were the prize winners at last year's fair. The powdered alum keeps the pickles crisp and is available at the supermarket in the spice section. If you are making large quantities, cut the cucumbers in ½-inch (1-cm) slices for easier jar packing or if you have small cucumbers, pickle them whole. Use any size of jar you prefer - certainly smaller ones if you are giving the pickles away. Use as a condiment with any food you like but especially corned beef and on the Thanksgiving table as a treat for the pickle lovers. Make a half recipe, if desired.
10 lbs (4.5 kg) pickling cucumbers
1 cup (250 mL) pickling salt
Boiling water
Cold water
1 tsp (5 mL) powdered alum

Sugar Syrup
3 cups (750 mL) cider vinegar
1 cup (250 mL) water
4 cups (1 L) granulated sugar
½ cup (125 mL) mixed pickling spice tied in cheesecloth
1. Cut cucumbers into ½-inch rounds (10-mm) and place in a large crock or pail. Add pickling salt and cover with boiling water. Let stand overnight.

2. Drain off the brine in the morning. Place cucumbers in preserving kettle or large pot. Cover with cold water and add powdered alum. Place on stove over high heat and bring to boiling point but do not boil. Immediately remove from stove and drain well.

3. To make syrup, combine vinegar, water, sugar and pickling spice in a pot. Bring to boil over high heat and boil for 10 minutes.

4. Pack cucumbers in jars and cover with hot syrup, leaving ¼-inch (5-mm) headroom. Seal the jars with new 2-piece canning lids, according to manufacturer's directions. Place jars in large pot or preserving kettle. Cover with hot water 2-inches (5-cm) above jars. Bring to boil, cover and boil 10 minutes. Remove jars from pot with tongs carefully. Make sure lids have a good seal. They should pop down. Store in a cupboard for up to one year.

Tip To sterilize jars, place in preserving kettle or large pot. Cover with water and boil for 15 minutes. Leave jars in hot water until ready to fill. To proceed with canning process return jars to the kettle. If not canning seal and refrigerate.
Makes twelve 2-cup (½-L) jars
SHARE