Cucumber & Apple Wedge Salad with Creamy Dill Dressing
Holiday 2017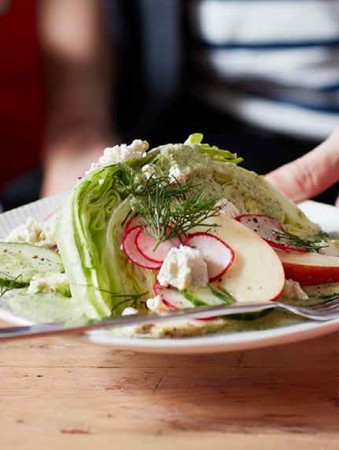 Cucumber & Apple Wedge Salad with Creamy Dill Dressing
Holiday 2017
BY: Michelle Rabin
A delightfully fresh accompaniment to a rich holiday meal and a great potluck dish—everyone gets their own fully dressed wedge. This salad departs from the classic bistro wedge that uses heavy blue cheese dressing. Instead, Greek yogurt and dill form a creamy dressing that bathes fresh cucumber, apples and radish.
DRESSING
½ English cucumber, peeled and roughly chopped
¼ cup (60 mL) Greek yogurt
3 tbsp (45 mL) prepared mayonnaise
2 tbsp (30 mL) grainy Dijon mustard
Zest of 1 lemon
Juice of 1 lemon
¼ cup (60 mL) chopped dill
1 tsp (5 mL) salt

SALAD
1 large head iceberg lettuce
4 radishes, thinly sliced
½ English cucumber, thinly sliced
1 Royal Gala apple, cored and thinly sliced
¼ cup (60 mL) feta
2 tbsp (30 mL) chopped dill
Salt and freshly ground pepper
1 Place all the ingredients for the dressing in a blender. Pulse until a smooth, creamy mixture forms.
2 Split lettuce in half and remove core. Cut each half into 4 equal-sized wedges. Arrange wedges on plates. Divide radish, cucumber and apple slices between plates.
3 Drizzle dressing over wedges. Garnish with crumbled feta and dill; season with salt and freshly ground pepper.
SHARE