Purple Potatoes with Mushrooms & Brie
Autumn 2017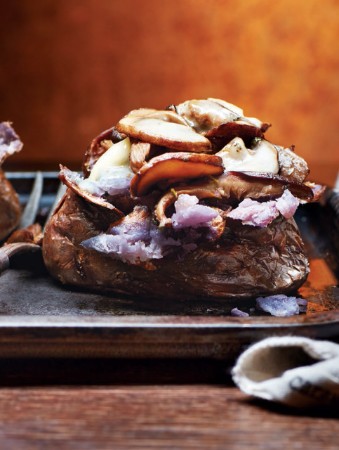 Purple Potatoes with Mushrooms & Brie
Autumn 2017
BY: Christopher St. Onge
Autumnal herbs and gooey brie turn these potatoes into a great cool-weather lunch. There's no need to do anything ahead of time. Once your potatoes are in the oven, sauté your mushrooms and keep them warm until the potatoes are done.
4 large True Blue or other purple potatoes suitable for baking, about 3 lbs (1.5 kg) total
¼ cup (60 mL) olive oil, divided
Salt and freshly ground black pepper
3 tbsp (45 mL) balsamic vinegar
1 tbsp (15 mL) honey
¼ cup (60 mL) butter, divided
2 lbs (1 kg) mixed mushrooms, sliced
4 cloves garlic, finely chopped
1 tbsp (15 mL) finely chopped sage
2 tsp (10 mL) finely chopped rosemary
6 oz (175 g) brie, rind removed, divided into 6 equal portions
1. Preheat oven to 350°F (180°C).

2. Place potatoes in a large bowl and drizzle with 2 tbsp (30 mL) oil; season liberally with salt and pepper. Place directly on centre rack and bake for 60 to 70 minutes or until tender.

3. Meanwhile, combine vinegar and honey in a small bowl; stir to dissolve honey and set aside.

4. Heat 2 tbsp (30 mL) butter and remaining 2 tbsp (30 mL) oil in a large nonstick skillet over medium heat. Once foaming, add mushrooms, season with salt and pepper, and cook, stirring often, for 10 minutes or until the mushrooms have given up their moisture and pan is once again dry.

5. Stir in garlic, sage and rosemary; continue to cook, stirring from time to time, for an additional 10 minutes or until mushrooms are golden. Pour vinegar mixture over, immediately remove from heat, and add remaining 2 tbsp (30 mL) butter to pan; stir until butter is melted.

6. Split top of potatoes and fluffy flesh with a fork. Divide mushrooms between potatoes, spooning into opening and over exposed flesh. Divide brie between potatoes and return to oven for 3 to 4 more minutes or until brie is melted.
SHARE