Make-Ahead Mashed Potatoes
Holiday 2007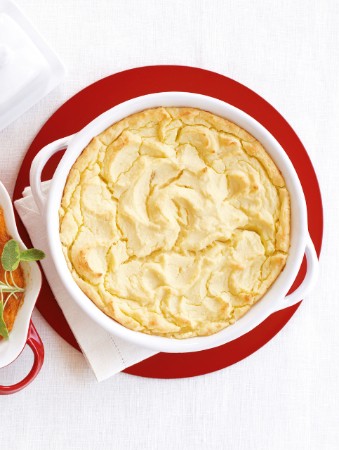 Make-Ahead Mashed Potatoes
Holiday 2007
BY: Lucy Waverman
These are the best-tasting mashed potatoes and can be made up to 2 days ahead of time! One head of garlic yields between 2 tbsp (25 mL) and ¼ cup (50 mL) roasted garlic. You can buy roasted garlic or make it yourself.
3 lb (1.5 kg) Yukon gold potatoes, peeled and quartered
1 cup (250 mL) deli-style cream cheese
4 eggs
¼ cup (50 mL) butter, softened
2 tbsp (25 mL) mashed roasted garlic
Salt and freshly ground pepper
1. Place potatoes in saucepan with cold salted water to cover. Bring to boil over high heat and boil for 10 minutes or until potatoes are tender. Drain and shake over low heat to dry off.

2. Mash potatoes with a masher, put through a food mill or beat with an electric mixer until smooth.

3. Whisk together cream cheese and eggs in a separate bowl. Beat into potatoes. Beat in butter and roasted garlic. Season well with salt and pepper.

4. Pile into a buttered 11 x 7-inch (28 x 18-cm) gratin dish, cool and refrigerate.

5. To reheat, bake in a 350°F (180°C) oven for 20 to 25 minutes or until heated through.
SHARE