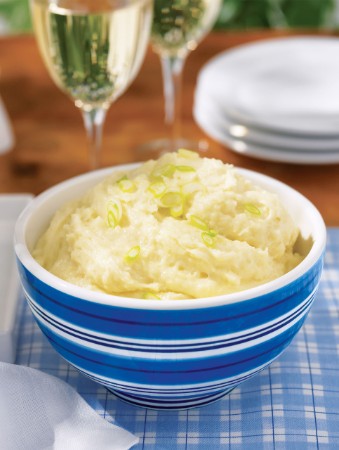 BY: Michael Potters, Chef, Harvest Restaurant
The quantity of butter and cream needed for a successfully silken and satiny purée will vary according to the potatoes and the season. Pick potatoes of uniform size so they are uniformly cooked. Be sure the butter is well chilled for it will make a finer, smoother purée. Follow the proportions of salt to water when cooking the potatoes - it will be difficult to make up for it with additional salt at the end. This recipe can be completed about an hour in advance up to instruction 5 and kept warm. Finish when needed.
5 large russet baking potatoes
Salt
½ cup (125 mL) whipping cream
1/3 cup (75 mL) unsalted butter
Ground white pepper
1. Scrub potatoes but do not peel. Place potatoes in a large saucepan and fill with enough cold water to cover by at least 1-inch (2.5-cm). For each quart (litre) of water, add 1 tbsp (15 mL) salt. Simmer, uncovered, over medium heat for 20 to 30 minutes or until a knife inserted into a potato comes away easily.

2. Drain potatoes as soon as they are cooked. Do not allow to cool in the water; the potatoes will lose their starch content necessary for a silken and satiny purée.

3. Once the potatoes are cool enough to handle, but are still hot inside, peel and cut into manageable pieces. Pass potatoes through a potato ricer into a mixing bowl, or beat with an electric beater.

4. Add ¼ cup (50 mL) cream to a large heavy-bottom saucepan, and bring to a light boil. Add 3 tbsp (45 mL) butter and just melt but do not boil. Add potatoes and work quickly to beat mixture smooth. Remove from heat.

5. Reduce heat to low. Return the potatoes and stir continuously with a wooden spoon while adding ¼ cup (50 mL) cream and beat hard. Slowly beat in remaining butter and cook until potatoes are smooth. Season with salt and white pepper. Serve immediately.
SHARE