Pumpkin Butter Shortbread Torte
Automne 2009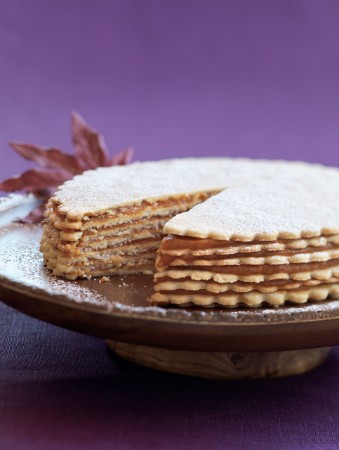 Pumpkin Butter Shortbread Torte
Automne 2009
BY: Anna Olson
Lucky number seven! Seven thin layers of orange-scented shortbread are sandwiched between a homemade pumpkin butter. Prepare this cake a day ahead to let the layers soften and slice easily.
Pumpkin Butter
1 tin (796 mL) pure pumpkin purée
¾ cup (175 mL) orange juice
1½ cups (375 mL) sugar
1 tbsp (15 mL) finely grated fresh ginger
1 tsp (5 mL) ground cinnamon
¼ tsp (1 mL) ground nutmeg

Shortbread Layers
½ cup (125 mL) unsalted butter, room temperature
¾ cup (175 mL) sugar
1 large egg, room temperature
1 tsp (5 mL) finely grated orange zest
1½ tbsp (22 mL) half-and-half cream
2 cups (500 mL) all-purpose flour
1 tsp (5 mL) Chinese 5-spice powder
½ tsp (2 mL) baking powder
¼ tsp (1 mL) salt
Icing sugar, for dusting
1. For pumpkin butter, stir all ingredients together in a heavy-bottom saucepan. Bring to a simmer over medium-low heat and simmer for 40 minutes, stirring occasionally. Cool to room temperature before chilling completely. Makes about 5 cups (1.25 L) of which 3 cups (750 mL) are needed for this recipe.

2. For shortbread layers, beat butter and sugar until fluffy. Beat in egg, orange zest and cream. In a separate bowl, sift flour, 5-spicepowder, baking powder and salt and add to butter mixture, stirring until combined. Shape dough into a log, wrap in plastic wrap and chill for at least 2 hours.

3. Preheat oven to 350°F (180°C).

4 Cut dough into 6 equal pieces. On a lightly floured surface, roll out 1 piece of dough to just over ⅛ inch (3 mm) thick. Use the fluted edge of an 8-inch (20-cm) removable bottom tart ring to cut out a large disc, reserving scrap pieces of dough. Transfer the disc to a parchment-lined baking tray (you can use the flat bottom portion of the tart sheet to lift the disc). Repeat with remaining discs of dough (rolling a 7th disc with the scraps). Bake for 12 minutes (fitting up to 2 per baking tray), until just the edges brown.Let cool before assembling.

5. To assemble, lay 1 shortbread disc onto a plate. Spread about ½ cup (125 mL) pumpkin butter evenly over disc and top with another shortbread disc. Repeat until all layers are assembled. Chill for at least6 hours (or overnight) before slicing (to soften the layers so they slice easily). To serve, dust top of torte with icing sugar and present.
SHARE