Pullman Club Car Sandwich
Early Summer 2017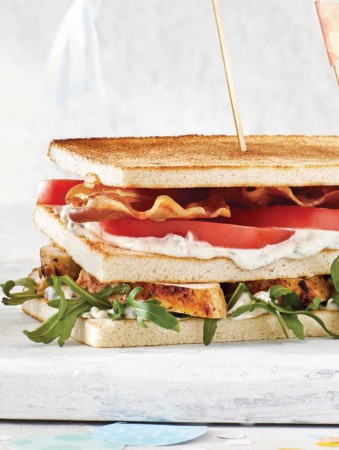 Pullman Club Car Sandwich
Early Summer 2017
BY: Eric Vellend
What's better than a club sandwich? A giant club sandwich! This one buzzes like a Vespa with salty pancetta, peppery arugula and caper-spiked mayo. Presented on a wooden cutting board, it will disappear before you can put it on the table. Tramezzini is crustless bread cut the length of the loaf. Designed for tea sandwiches, it's available at Loblaws under the PC label.
CHICKEN
2 cloves garlic, minced
1 tbsp (15 mL) chopped rosemary
2 tbsp (30 mL) fresh lemon juice
¼ cup (60 mL) extra virgin olive oil
4 boneless skinless chicken breasts, each 6 to 8 oz (175 to 250 g)
Salt and freshly ground pepper to taste

CAPER MAYO
½ cup (125 mL) mayonnaise (reduced fat is fine)
2 tbsp (30 mL) capers, rinsed and chopped
2 tbsp (30 mL) chopped fresh basil
1 tbsp (15 mL) finely chopped green onion
16 thin slices pancetta
6 slices white tramezzini (crustless) bread
2 handfuls washed baby arugula
1 beefsteak tomato, sliced
Salt and freshly ground pepper to taste
1. To marinate the chicken, whisk together garlic, rosemary, lemon juice and olive oil. Place chicken on baking sheet (to avoid contaminating kitchen counters). Season both sides generously with salt and pepper. Transfer the chicken to a large freezer bag. Pour in the marinade. Press out air, seal and refrigerate overnight.

2. For the caper mayo, mix mayo, capers, basil and green onion. Cover and refrigerate for up to 3 days.

3. For the pancetta, preheat oven to 400°F (200°F).

4. Place pancetta on a parchment-lined baking sheet without overlapping. Bake until brown and crisp, 8 to 10 minutes. Remove from oven and cool slightly. Transfer to paper towel to drain. (Pancetta will keep, covered, layered in paper towel and refrigerated for 2 days. Microwave on high for 10 to 20 seconds to crisp them back up.)

5. To cook chicken, remove chicken from marinade and let stand at room temperature for 30 minutes. Preheat grill to medium. Clean and oil grate. Grill chicken with lid closed until cooked through, 7 to 9 minutes per side. Let rest 15 minutes. Slice against grain, ½ inch (1 cm) thick.

6. Preheat broiler to high. Place bread on 2 baking trays lined with aluminum foil. Working in shifts, broil the bread on top rack, watching carefully, until toasted, about 1 minute per side.

7. Place 2 slices toasted bread on work surface. Smear generously with caper mayo. Top with arugula and layer of sliced chicken. Place toasted bread slices overtop. Smear with mayo. Add layer of sliced tomato. Season lightly with salt and pepper. Top with pancetta. Place remaining bread slices on top.

8. Cut each sandwich in half crosswise, then cut each half in half both ways for a total of 8 even pieces. Secure each piece with a toothpick.
SHARE