Pulled Pork Sandwiches
Été 2003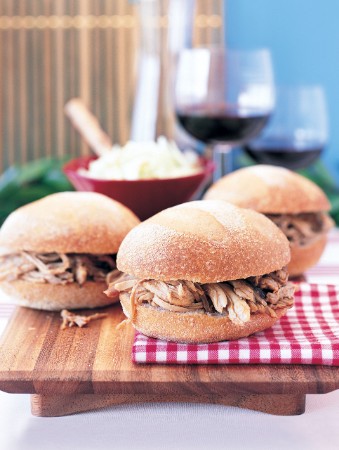 Pulled Pork Sandwiches
Été 2003
BY: Lucy Waverman
Pulled pork is a wonderful, tasty, succulent dish. It is a favourite in the southern United States. Whole pigs or parts are slow cooked for many hours over a charcoal pit. The barbecue sauce is not tomato-like, it is more vinegary and it varies depending on which state you are in and which area. The pork is cooked until it is very tender, then it is pulled or chopped and served as a sandwich. It makes a great barbecue dinner to feed a crowd. Place a large platter of the chopped pork in the centre of the table and let guests make their own sandwiches. Serve it with coleslaw, potato salad and baked beans or bean salad.
5 lb (2.2 kg) pork shoulder    
¼ cup (50 mL) All-purpose barbecue rub (recipe follows)
8 kaiser or other rolls
1½ cups (375 mL) Southern Barbecue sauce (recipe follows)
1.  Massage rub all over pork shoulder, on top and underneath.

2.  Set up barbecue by placing a smoker box under the grill (instructions follow). Turn off all but one burner. Place pork on the turned off portion of the grill. Cook for 5 to 7 hours or until internal temperature reads about 170°F (75°C) or until meat is so tender it can be cut with a fork.

3.  Place pork on rolls and douse with barbecue sauce.

Serves 8


Smoking on the Grill
Wood chips (best for gas grills) or chunks (best with charcoal) add authentic BBQ smoke flavour to your grill. Various aromatic hardwoods (hickory, mesquite, maple, alder) and fruitwoods are available, but there is little difference in the final taste. Soak wood in water for at least an hour before use, and place directly onto charcoal, or with a gas grill into a perforated aluminum foil pouch, foil pan or smoker box under the rack.

Smoker Boxes
To make your own smoker box, place soaked wood chips in a double wrap of foil. Puncture lots of holes and place it under the rack. (You can use a foil container, too). Heat grill to high and when the barbecue is full of smoke add the meat or fish. You can also buy smoker boxes for barbecues. Follow the manufacturer's directions for how long you need to soak the wood for smoking.

All-purpose Barbecue Rub
If using this rub for pork and pork spare-ribs, increase the sugar to 2 tbsp (25 mL).

1/4 cup (50 mL) coarse salt (kosher or sea)
1 tbsp (15 mL) brown sugar
1 tbsp (15 mL) dry mustard powder
1/4 cup (50 mL) chili powder
2 tbsp (25 mL) paprika
1 tsp (5 mL) cayenne
2 tbsp (25 mL) freshly ground black pepper


1. Place salt, sugar, mustard powder, chili powder, paprika, cayenne and ground pepper in a bowl and mix together.

2. Store in an airtight jar away from heat and light; it will keep for at least six months.
Makes about 1 cup (250 mL)

Southern Barbecue Sauce
1 cup (250 mL) apple cider vinegar
2 tbsp (25 mL) brown sugar
2 tbsp (25 mL) dried mustard powder
2 tbsp (25 mL) lemon juice
1 tbsp (15 mL) chili flakes
2 tbsp (25 mL) Worcestershire sauce
1/4 cup (50 mL) ketchup


1.  Whisk everything together in a bowl. Keeps for one month refrigerated.
Makes about 1½ cups (375 mL)
SHARE