Pulled Chicken Tostaditas with Creamed Corn & Poblano
Autumn 2013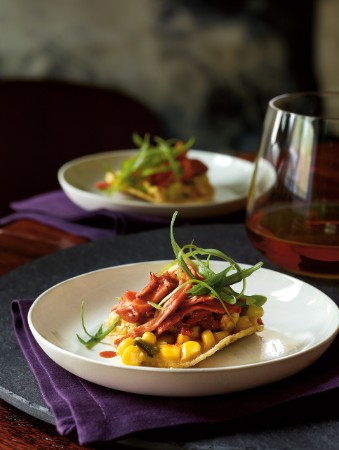 Pulled Chicken Tostaditas with Creamed Corn & Poblano
Autumn 2013
BY: Christopher St. Onge
These scrumptious bites feature achiote paste, or recado rojo, a Mexican spice paste. It is sold in small blocks in the Mexican aisle of well stocked grocers and in Mexican specialty shops.
CREAMED CORN AND POBLANO
1 poblano pepper
3 cobs corn, shucked
2 cups (500 mL) water
Salt and freshly ground pepper
½ cup (125 mL) whipping cream
Pinch ground chipotle or cayenne
3 green onions, thinly sliced

PULLED CHICKEN
1 cup (250 mL) water
2 tsp (10 mL) achiote paste
¼ tsp (1 mL) salt
4 boneless, skinless chicken thighs
Juice of 1 lime
24 round corn tortilla chips
2 shredded green onions
Mexican hot sauce, such as Cholula or Tapatio brands
1 For the creamed corn and poblano, heat a cast-iron skillet over medium heat. Place poblano in pan. Dry roast the pepper, turning from time to time, until the skin is evenly blackened, about 10 minutes total. Place in a small re-sealable plastic bag for 20 minutes. Remove from bag and, using your fingers, scrape skin from pepper; discard skins. Trim and discard stem, seeds and ribs; dice flesh and set aside.

2 Trim tips from corncobs. Working with 1 cob at a time, stand on cutting board and, using a sharp knife, remove kernels. Scrape cores with a spoon to remove pulp.

3 Combine kernels and pulp with 2 cups (500 mL) water in a large skillet with a lid; season with ¼ tsp (1 mL) salt. Bring to a simmer over medium heat, reduce to low, cover and cook for 25 to 30 minutes, or until tender and most of water has evaporated. Add cream, chipotle and reserved poblano to pan. Increase heat to medium, bring to a boil, and cook until cream is thickened, 4 to 5 minutes. Remove from heat and stir in green onions. Season generously with freshly ground pepper and additional salt if necessary. (Corn may be made and refrigerated up to 2 days ahead. Gently re-warm over low when ready to serve).

4 For the pulled chicken, pour 1 cup (250 mL) water into a large saucepan with a lid. Add achiote paste and salt; whisk to dissolve paste. Nestle chicken into liquid, and bring to a simmer over medium heat. Reduce to low and cook, covered, for 45 minutes. Remove chicken from braising liquid with a slotted spoon and set aside. Increase heat to high, and reduce liquid to ¼ cup (60 mL); remove from heat. Shred chicken with 2 forks and return to pot. Stir to coat chicken in sauce. Season with lime juice.

5 To assemble, place a generous tablespoonful (15 mL) of corn on each tortilla chip. Divide shredded chicken between chips and top each with a pinch of green onion and a dash of hot sauce.
SHARE