Prune-Stuffed Pork Loin with Drambuie Jus
Printemps 2010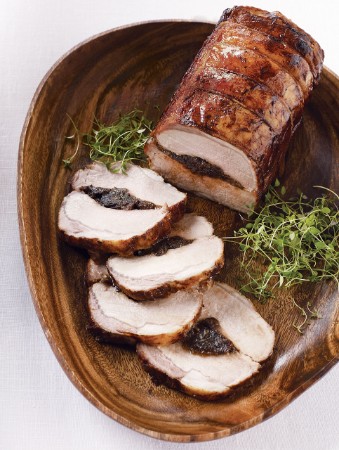 Prune-Stuffed Pork Loin with Drambuie Jus
Printemps 2010
BY: Julia Aitken
Drambuie's herbal notes and a savoury prune stuffing are great foils for mild-flavoured pork in this simple weekend dinner.
18 pitted prunes, coarsely chopped
2 tbsp (25 mL) olive oil
2 large cloves garlic, minced
2 tsp (10 mL) finely grated orange zest
2 tsp (10 mL) finely minced thyme leaves
1 tsp (5 mL) each kosher salt and freshly ground black pepper
½ tsp (2 mL) ground coriander
1 boneless centre-cut pork loin roast (about 3 lbs/1.5 kg)
1 cup (250 mL) Drambuie
2 cups (500 mL) low-sodium chicken stock
2 tbsp (25 mL) cold unsalted butter, cubed
Thyme sprigs for garnish
1 Preheat the oven to 325°F (160°C).

2. In a medium bowl, stir together prunes,1 tbsp (15 mL) olive oil, garlic, orange zest, thyme, ½ tsp (2 mL) each salt and pepper, and coriander.

3. If pork roast comprises 2 pieces of loin tied together, snip strings securing pork and open up both halves like a book. Spread prune mixture over inside of one half of pork. Reassemble roast and tie securely at intervals with kitchen twine.

4. If pork roast comprises just 1 piece of loin, snip any strings securing pork and place it, fat-side down, on a cutting board. With a sharp knife, make 3 deep cuts down the entire length of the roast, stopping about 1 inch (2.5 cm) from the fat side. Stuff prune mixture evenly into cuts. Tie roast securely at intervals with kitchen twine.

5. Sprinkle pork evenly all over with remaining salt and pepper. In a large heavy skillet, heat remaining oil over medium-high heat. Cook pork in skillet for 6 to 8 minutes, turning often, until browned on all sides, including the ends.
6 Place pork, fat-side up, in a shallow roasting pan. Drizzle pork with ¼ cup (50 mL) Drambuie. Roast for 25 minutes. Drizzle with another ¼ cup (50 mL) Drambuie.

7. Roast for a further 25 to 30 minutes or until an instant-read thermometer inserted into centre of pork registers 135°F (57°C). Remove the pork to a cutting board. Tent loosely with foil and let stand for 10 minutes.

8. Add remaining Drambuie to roasting pan and bring to a boil over medium heat, stirring to scrape up any browned bits from bottom of pan. Add chicken stock to pan. Boil, stirring often, for about 5 minutes or until liquid has reduced slightly. Remove the pan from the heat. Whisk in butter a little at a time. Season with more salt and pepper to taste if necessary.

9. Cut pork into slices and arrange on a warm serving platter, discarding twine. Garnish with thyme sprigs. Pour the Drambuie jus into a pitcher and serve alongside.
SHARE