Provençal Pork Roast
Early Summer 2016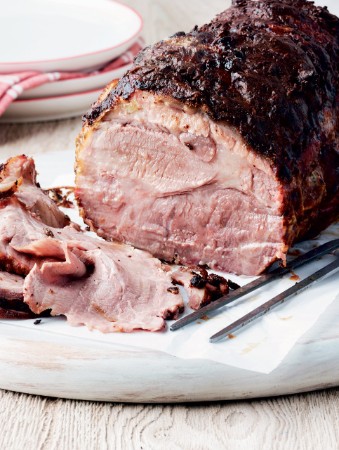 Provençal Pork Roast
Early Summer 2016
BY: Jennifer MacKenzie
Garlic, mustard and herbs reminiscent of the south of France add a succulent flavour to this roast and work well in a variety of dishes that take full advantage of the leftovers. Contrary to leaner pork cuts, which should be cooked to medium doneness or less, this well-marbled shoulder cut is best cooked just to well-done for the most tender texture, and don't worry, it stays nice and moist, even with this less typical dry-roasting technique. A probe thermometer inserted in the meat before roasting and left in is best for avoiding opening the oven door too often to check for doneness—which will cool off the roast. Be sure to insert it into the meatiest part, rather than the fat, to get an accurate reading. You should feel firm resistance when you push the probe into the cold meat. The shape/thickness of your roast as well as how it is tied accounts for the widerange of cooking time in step 5.
1 boneless pork shoulder blade (butt) roast, 6 to 7 lbs (2.7 to 3.15 kg) tied
4 cloves garlic
1½ tsp (7 mL) salt
1½ tsp (7 mL) freshly ground pepper
½ cup (125 mL) Dijon mustard
2 tbsp (30 mL) chopped fresh sage
1 tbsp (15 mL) chopped fresh thyme
1 tsp (5 mL) minced fresh rosemary
1 tsp (5 mL) dried lavender flowers, crumbled (optional)
1 Preheat oven to 450°F (230°C).

2 Pat roast dry and place on a rack in a large roasting pan. Cut garlic lengthwise into quarters. Using the tip of a sharp paring knife, cut 16 slits in roast, inserting 1 piece of garlic into each slit as you cut. Rub salt and pepper all over roast.

3 Roast pork for 30 minutes. Turn oven down to 325°F (160°C) and roast pork for 1 hour.

4 Combine mustard, sage, thyme, rosemary and lavender, if using, in a bowl (see TIP).

5 Working quickly, remove roast from oven and spread mustard mixture over top, sides and ends of roast. Return to oven and roast for 1½ to 2½ hours longer, or until a meat thermometer registers 165°F (73°C). Tent with foil and let rest for 20 minutes (the temperature will continue to increase about 5°F/3°C).

6 Cut across the grain (removing string as you slice) to serve warm or let whole roast cool slightly, then cover and refrigerate until chilled, for at least 8 hours to serve cold. Leftovers can be stored in an airtight container for up to 3 days.

TIP If you prefer to use a dried herbes de Provence blend, use 4 tsp (20 mL) in place of the fresh sage, thyme, rosemary and dried lavender. Add the dried herbs to the mustard 2 to 4 hours ahead of the time to spread on the roast to let herbs soften and the flavours bloom.
SHARE